B.B. King / Lucille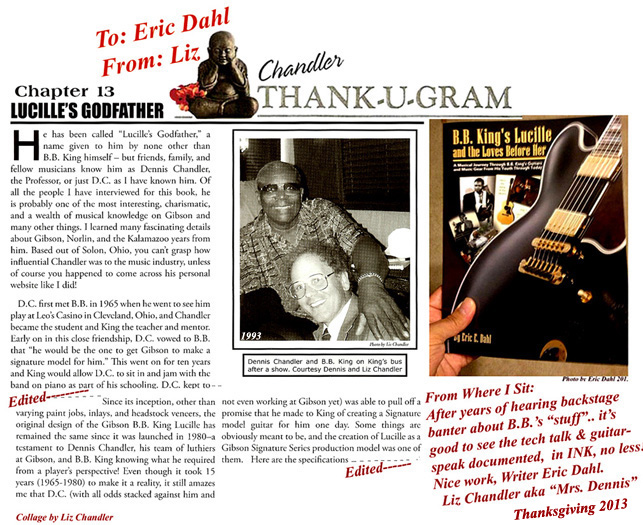 How Dennis Chandler Helped Make Happen The B.B. King/ Lucille Production Line Model
A Few Good Years In Camelot or Working In Your Favorite Guitar's Company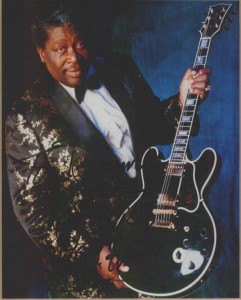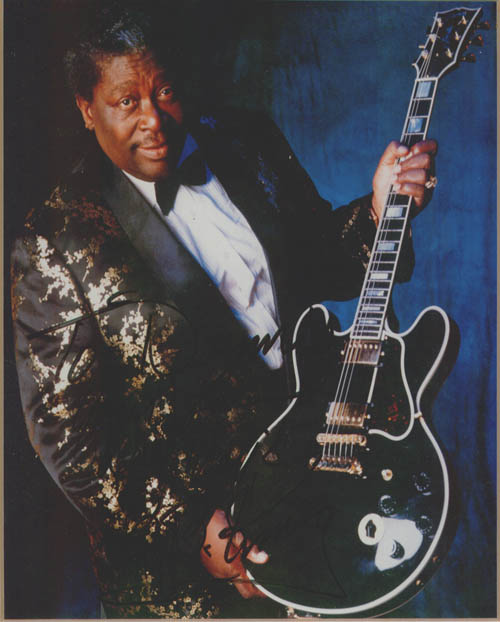 Dennis Chandler and B. B. King first met in the '60s and about that more will written, later. Right now, here is how he got Gibson to make the guitar model "ES 355 TDSV"… "The B. B. King/ Lucille" signature model.
WHAT is a signature guitar? Models made and named for an artist i.e., the late, great Les Paul, who had his own Gibson model; one that is still in production today. In fact, dear Les Paul  and one of those guitars, his "THE No. 1 Les Paul", was responsible for paving the way for Lucille. (More about that on the Les Paul page.)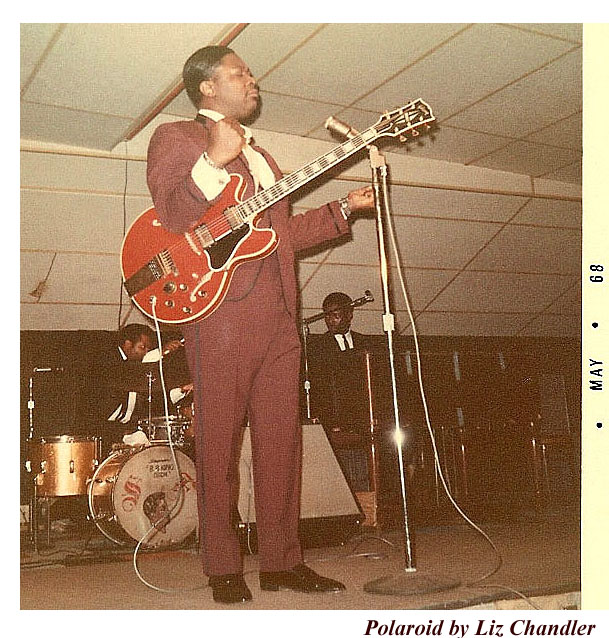 WHY…  did Dennis vow (back in 1965) to B.B., his dear teacher and mentor, that he would be the one "to get Gibson to make King his own signature guitar". Because he felt that the Gibson ES 355 should be renamed to honor B.B.King. Warmly called "Lucille" by B.B. and fans alike, "Why not make it official?"
HOW… to get "Lucille" made as a model? His campaign started with letters to Gibson in the early '70s. It swelled when Dennis went to work for Gibson in '78. In fact, it was B.B. King who had referred Dennis Chandler to Gibson's Bruce Bolen. Plus, it didn't hurt that Dennis was referred to Bolen by their other mutual friend, Les Paul. Oh, what a tapestry was being was being woven.
By the way, for fans of the Les Paul model guitar… there's an interesting story on the page titled "The Les Paul No. 1″ on this website. Now back to how Dennis Chandler pried open the door to Gibson with that attention-getting guitar. Turns out "The LP No. 1" was shipped out by accident from Gibson to Dick Sodja, a local music store dealer-friend of Dennis'. Chandler saw it, bought it, and used it to get the attention of Gibson's Bruce Bolen to discuss a B.B. King model. But, first Bruce Bolen expressed that Gibson would like to get the guitar back. What would it take for him to sell it? Then the salesman in Dennis said, "Not for sale, yet. But, how about a job with Gibson?" Off he was, in the running. He sent a resume, did interviews, took tests, etc. Timing was such that a veteran sales rep of fifty years, the revered Joe Browne was about to retire. Dennis was hired to fill his slot. Once in his favorite guitar's company he knew he could continue to move along his campaign to get B.B. King his own production line model, like Les Paul had.
WHEN…  We go back to the late 70′s and early '80s. That's when Dennis was able to marry his love of music with his business acumen at a-Camelot-of-a job at Gibson Guitar. He went to work in Sales and Marketing for them (or was it really for B.B. King aka Poppa B.B.?)
WHO… Success for B.B. and D.C. came in a handshake from then Gibson President Bob McRann who told Dennis in 5 words, "Great idea, go do it!" That assignment, along with one for Dennis to, "also get B.B.King signed as an endorsee for their Lab amp line", came about in a very unusual setting. It was while deep sea fishing, amid sharks, 5 hours off the coast of the Panama!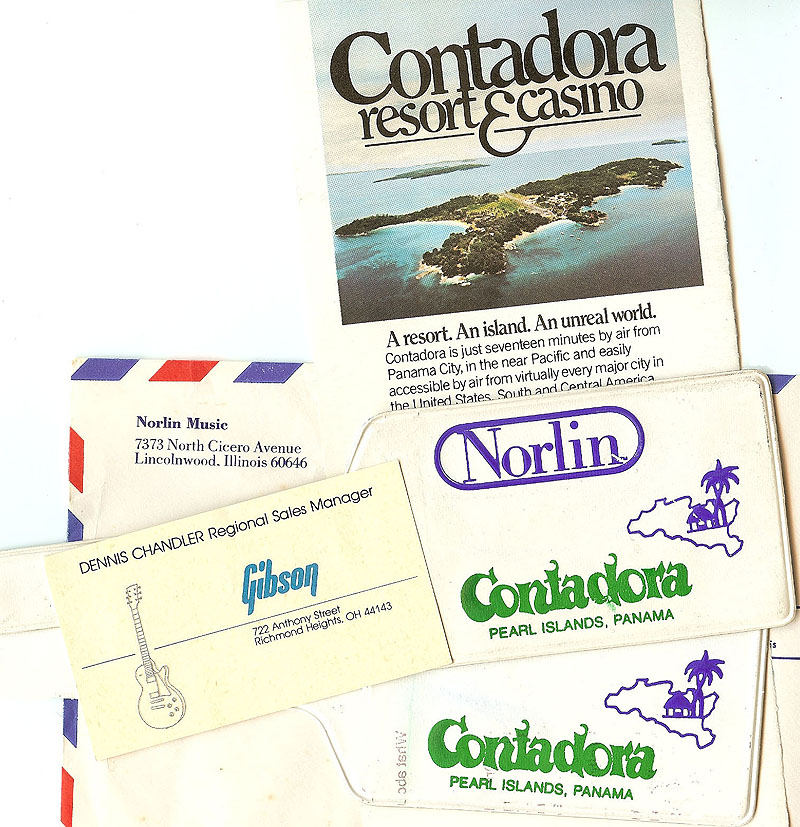 Continuing  HOW…  Dennis-the-salesman came to be Dennis-the-deep-sea-fisher. It was because he won the Gibson Sales Contest that year. (In fact, he set for himself the goal to win.) All the time he worked for Gibson he had hoped for an audience with the president (so Dennis could discuss his idea for a B.B. King production line model). Well, top prize for him was a trip for two to the plush Contadora Island. Upon arriving at the Fantasy Island-like resort, Dennis learned he had won another top perk: Deep-sea fishing with the president of Gibson. Talk about a captured audience. Chances to chat freely came often, what with only 5 guests onboard, the McRanns, the Chandlers and Gibson Vice President Jim Whitehill. It was after they were underway, 5 hours out to sea, that Dennis began to make his case for B.B.King's guitar, (pardon the pun). There, out in the middle of the ocean came Gibson President McRann's 5 words of instruction, "Great idea, go do it!" Dennis finally got the go ahead to make happen what he told B.B. he would do, way back in 1965. (Seems to me the number 5 is a lucky one for "Lucille" and family!)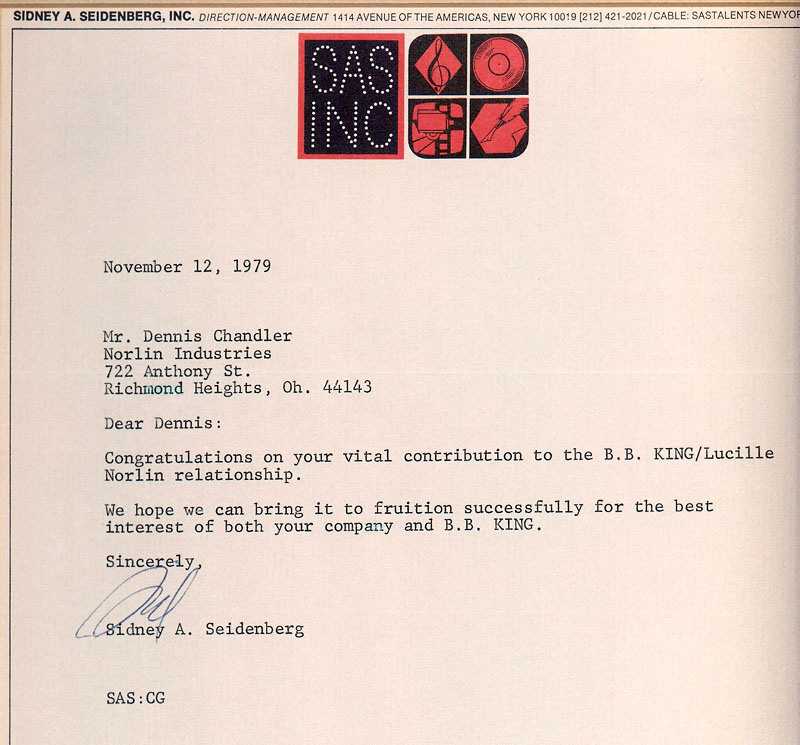 Once back in the USA, Dennis co-coordinated the initial 5 days of endorsement/ R&D meetings. To Cleveland, Ohio came the following 5: Gibson Pres. Bob McRann, V.P. Bruce Bolen, Research & Development director Rendell Wall, district manager Lane Zastrow and Sid Seidenberg (B.B.'s manager).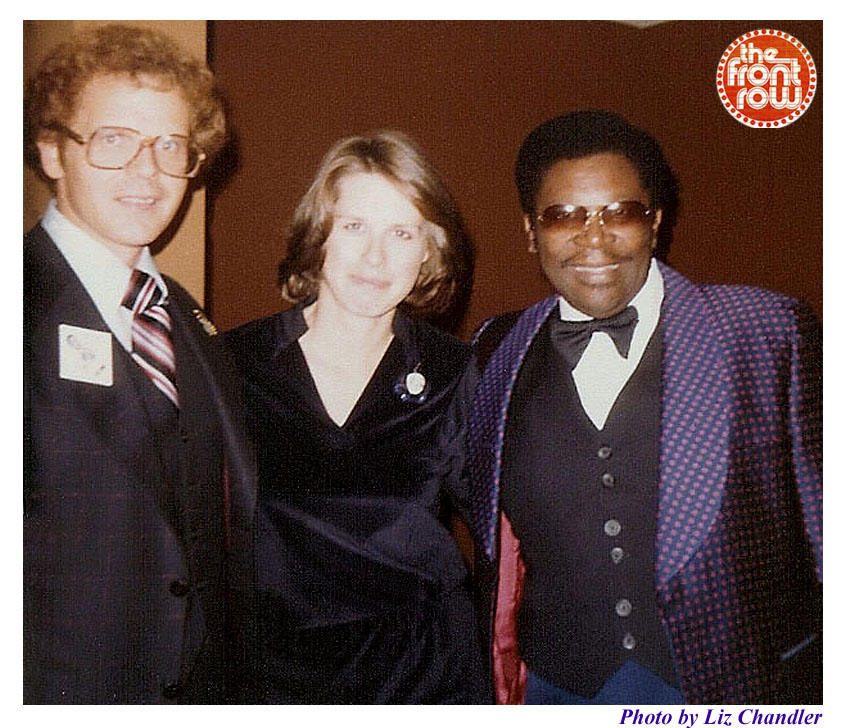 The first meeting was held backstage after one of B.B.'s concerts at a favorite place of his to play, the Front Row Theater. The second meeting was the next day in B.B.'s hotel suite, with all in attendance. More "design days" followed and voila… WHEN was Lucille born? The guitar's due date was 1980. (And that's when B.B. dubbed Dennis "Lucille's Godfather").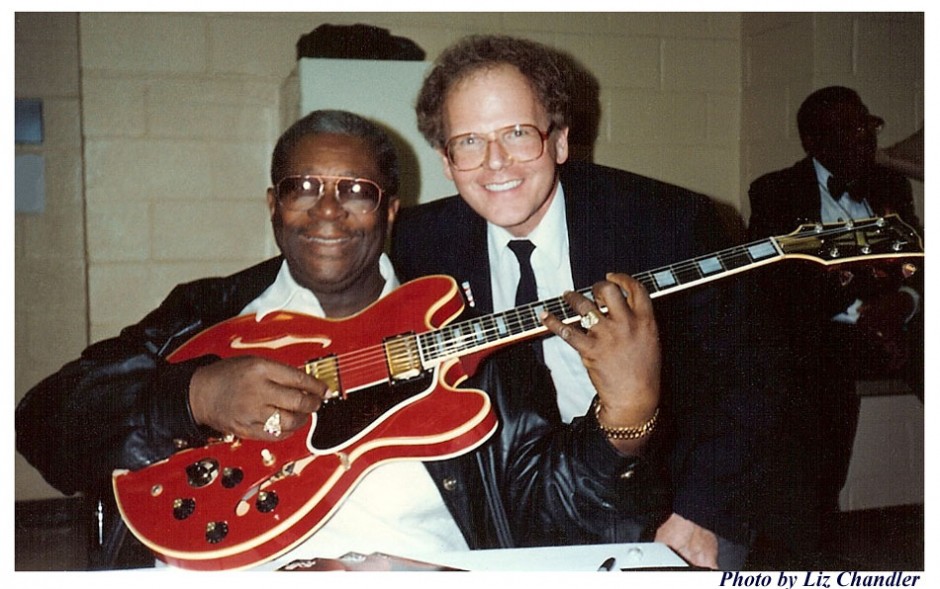 WHAT was Dennis' biggest accomplishment at Gibson? He feels it was getting Gibson to make "The B.B.King / Lucille" production line model. For tech geeks, B.B.was also brought into the fold as an endorsee of other Gibson products i.e., Lab amps. Dennis can tell tales of dealing with Dr. Moog to get ready those Lab amps B.B. loved so well. (Too tall tales… err… too technical for this writer).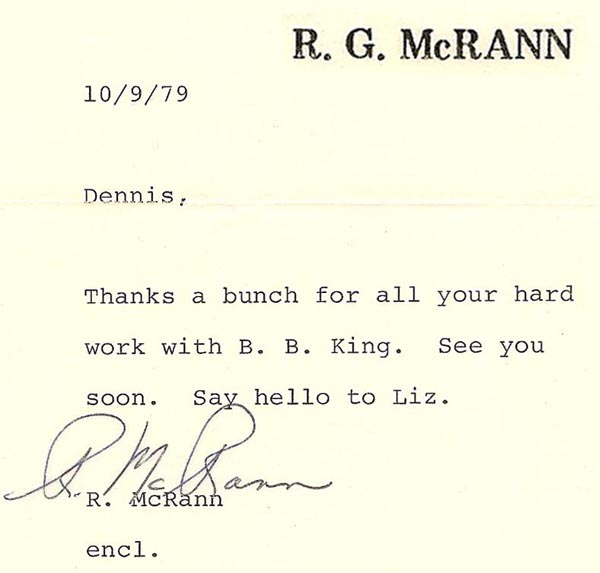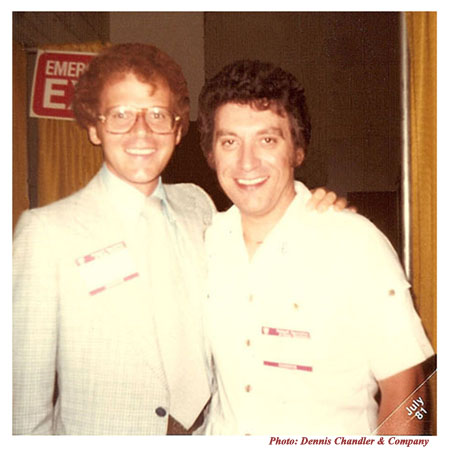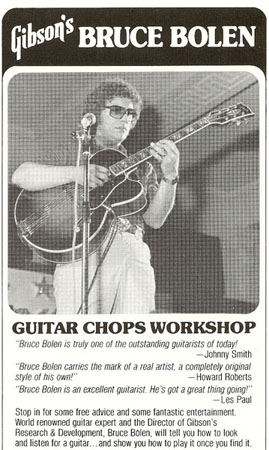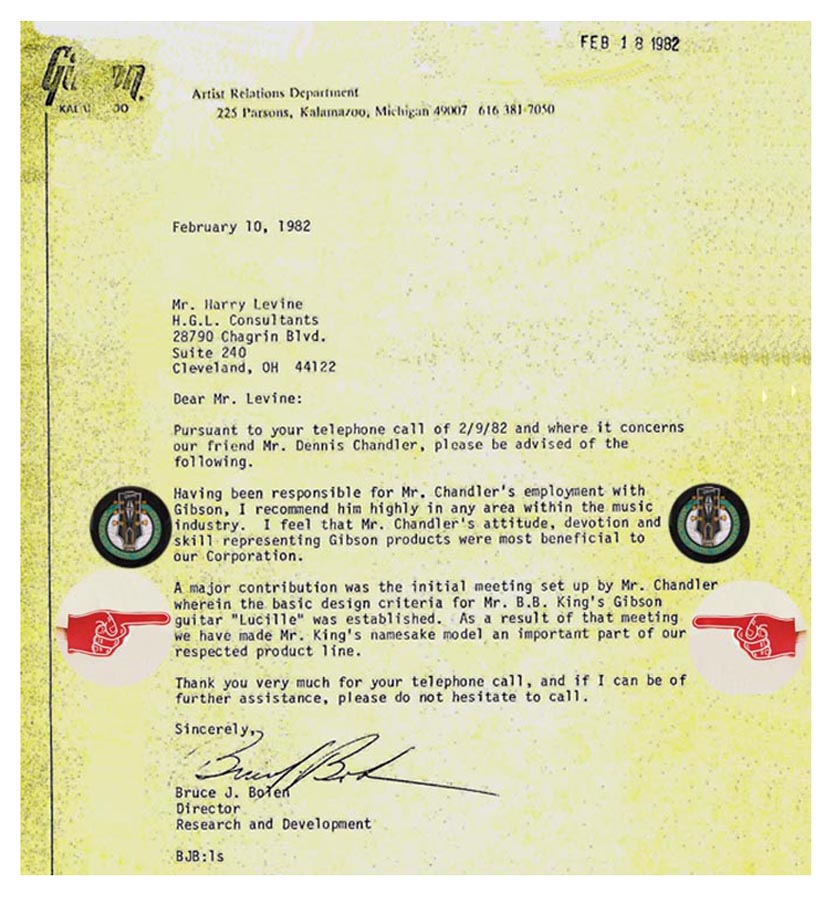 Pride in a job well done does not compare to the love and encouragement felt for the effort expended for this endeavor. For example, whenever the King of the Blues introduced Dennis as "Lucille's Godfather… that credit made him smile. But, Dennis was more deeply touched when B.B. introduced him as "A fabulously talented musician whom I call my adopted son 'cause I like to think I raised him" (and for the past fifty years he did).
Thank you, Poppa B.B. .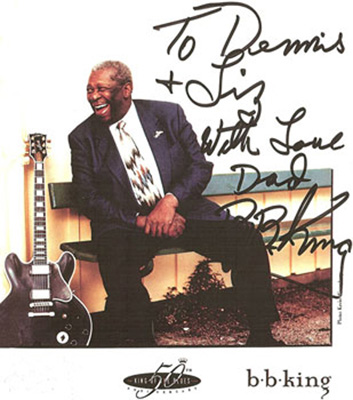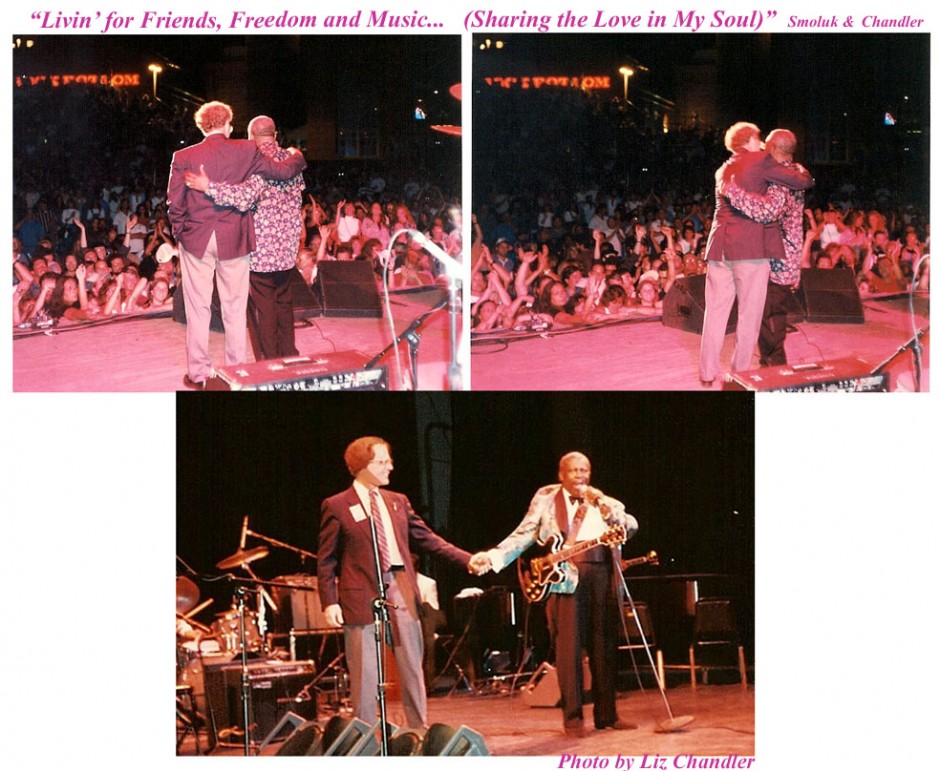 "Why doesn't Dennis do more in the business end of music?" many ask. Because he could NEVER stop playing music; especially after having heard in his head "choruses of praise"… the kind that comes from having a "close encounter". It was phrased perfectly by B.B. King's son, Rev. Robert Edwards, who was among the first to encourage Dennis to "Make a joyful noise unto the Lord". He, like others, witnessed that Dennis, in remission from leukemia, appeared restored… beyond the proficiency he had prior to his illness. It was then that "The Rev", as B.B. called him, promptly booked Dennis to headline this Blues & Gospel Blues Fest.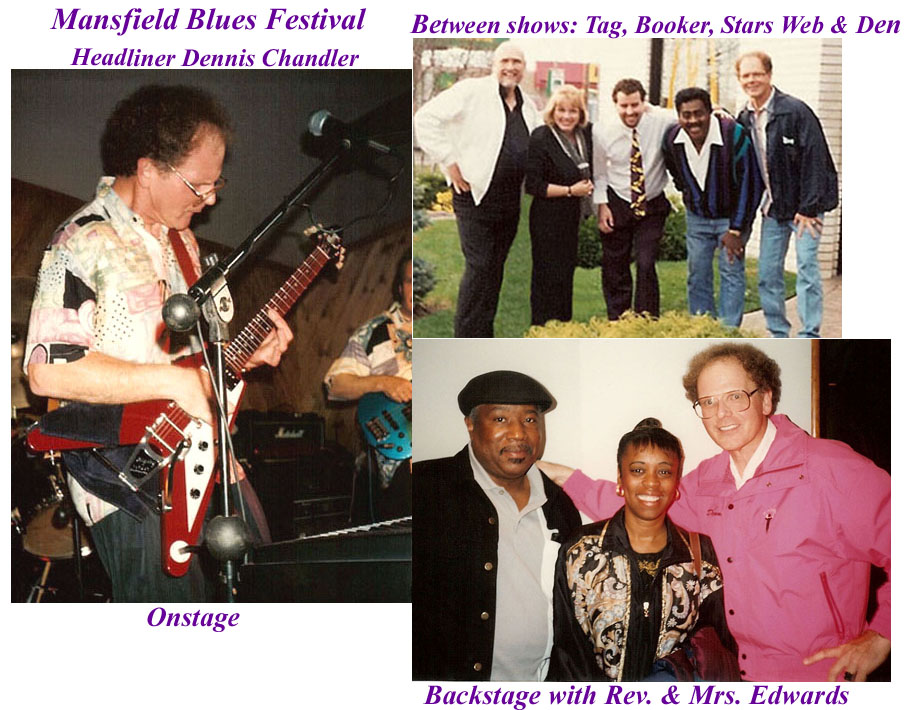 Therefore, since his Healing over twenty-five years ago, Dennis' indeed grateful to perform wherever, whenever and by whomever invites him to… "Make a Joyful noise". Hence his diverse itinerary.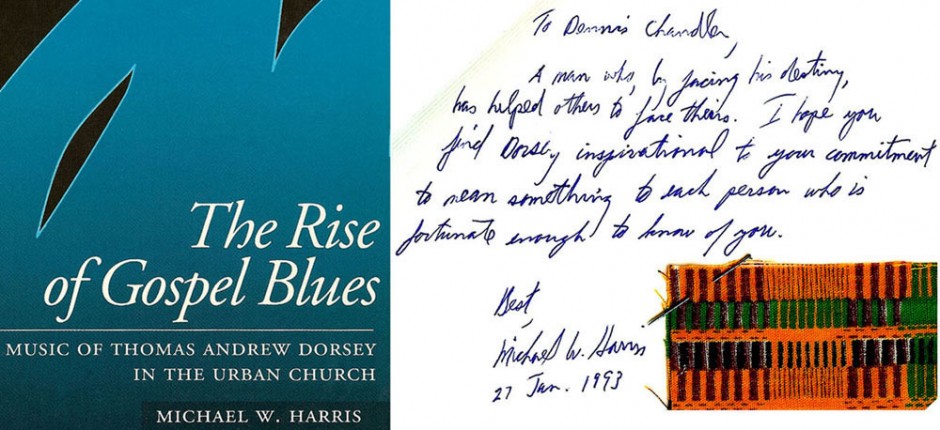 Back to 'bout making music while at Gibson… One fond memory for him has to be priceless: Playing in Chicago at the 1979 International Convention of NAMM (aka National Association of Music Merchandisers). There in the "Gibson Guitar Greats Showcase Series" pianist-Dennis was the only keyboardist invited to accompany the following "Guitar Greats" …  (in alphabetical order) Bruce Bolen, Larry Carlton, Al DiMeola, Mike Elliott, Herb Ellis, Les Paul, Lee Ritenour, Howard Roberts, and of course, Poppa B.B. King. What a concert. What a memory. No photos needed.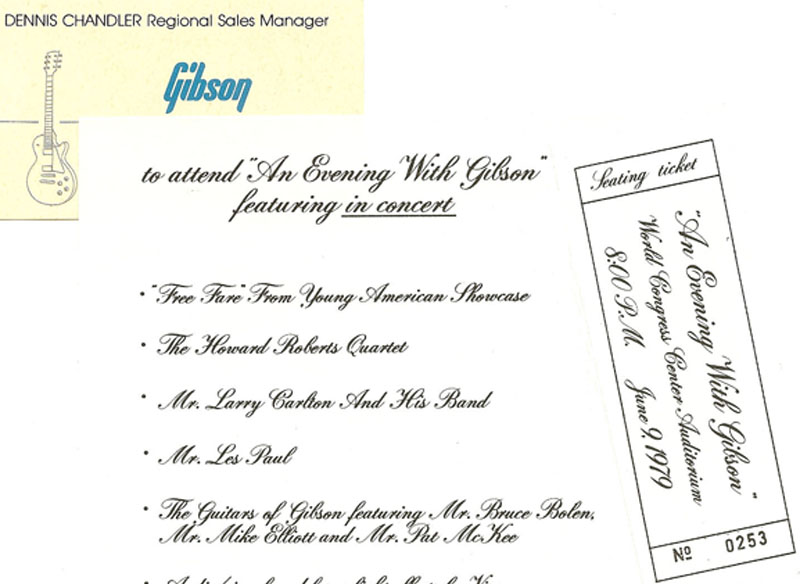 "CHUCK BERRY's own GIBSON SIGNATURE MODEL GUITAR".
That's a headline still rolling around in student-Dennis' head. To explain the below photo… Den had a dream of doing for the great Chuck Berry (another teacher and musical mentor), what he did for B.B. King. Gibson Guitar contacted Dennis and consultant Chandler was used (and was he ever). A "Chuck Berry Guitar" was in the works. It almost came to be. It was a close call as a prototype was done. But, almost only counts in horseshoes (and hand grenades). Unbeknownst to Dennis, the deal got undone by someone else! Now we hear "that young'in is long gone from Gibson". Could it be that "Lucille's Godfather" will talk to the elders in Entertainment Relations. Maybe then Icon Berry could have his own Chuck Berry/ Gibson signature model. It still could happen,   Lord willing (and with a little help from another Angel from above. Can you spell B.B.K.?)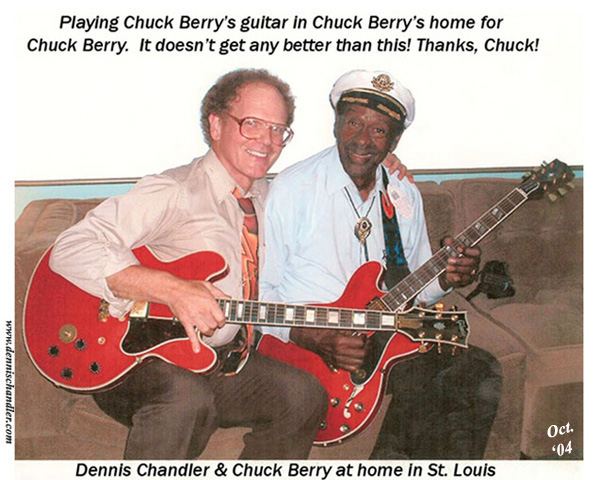 In the meanwhile and also in B.B.'s memory…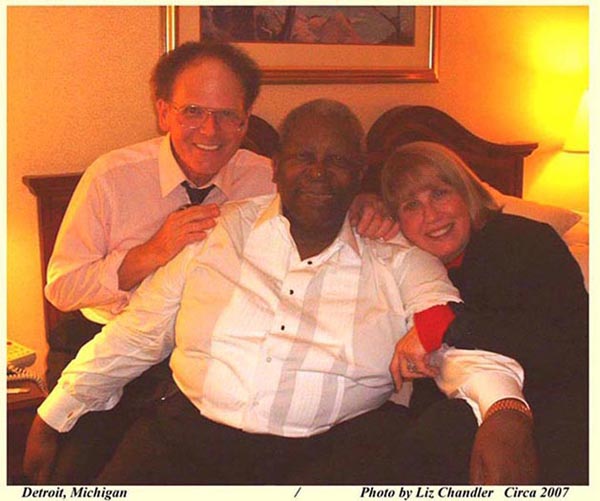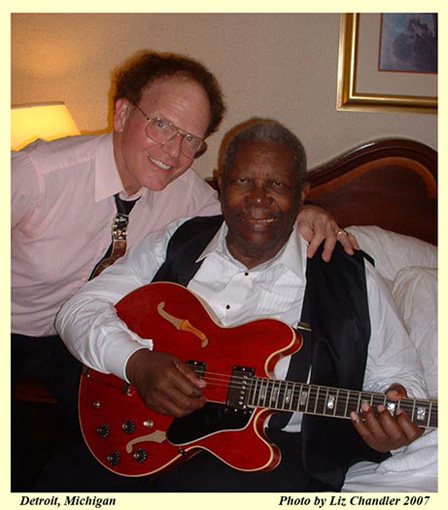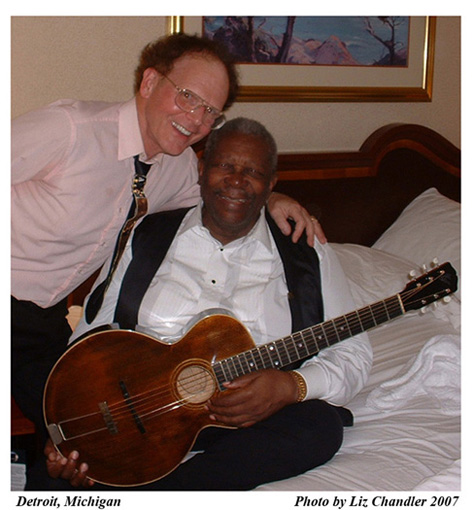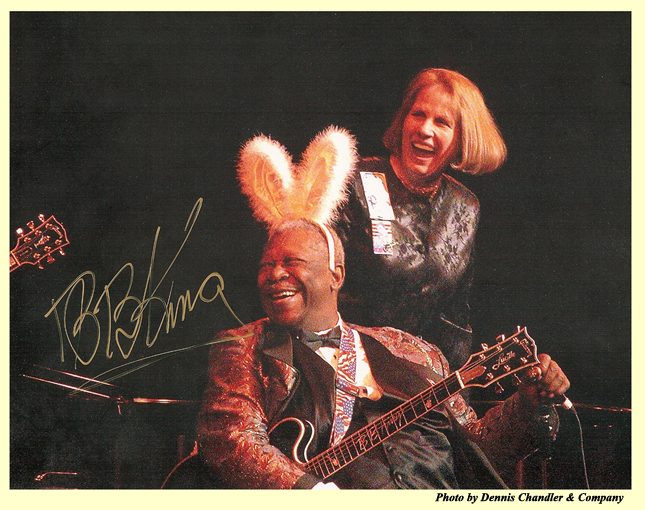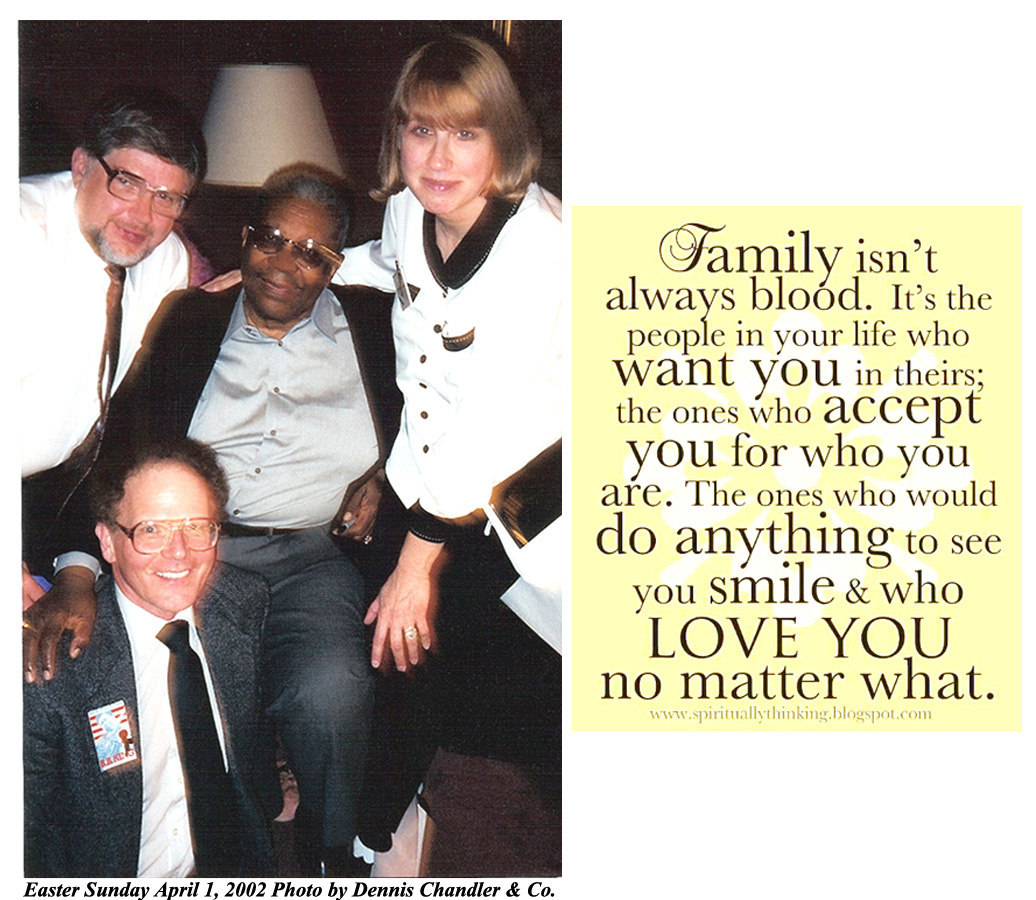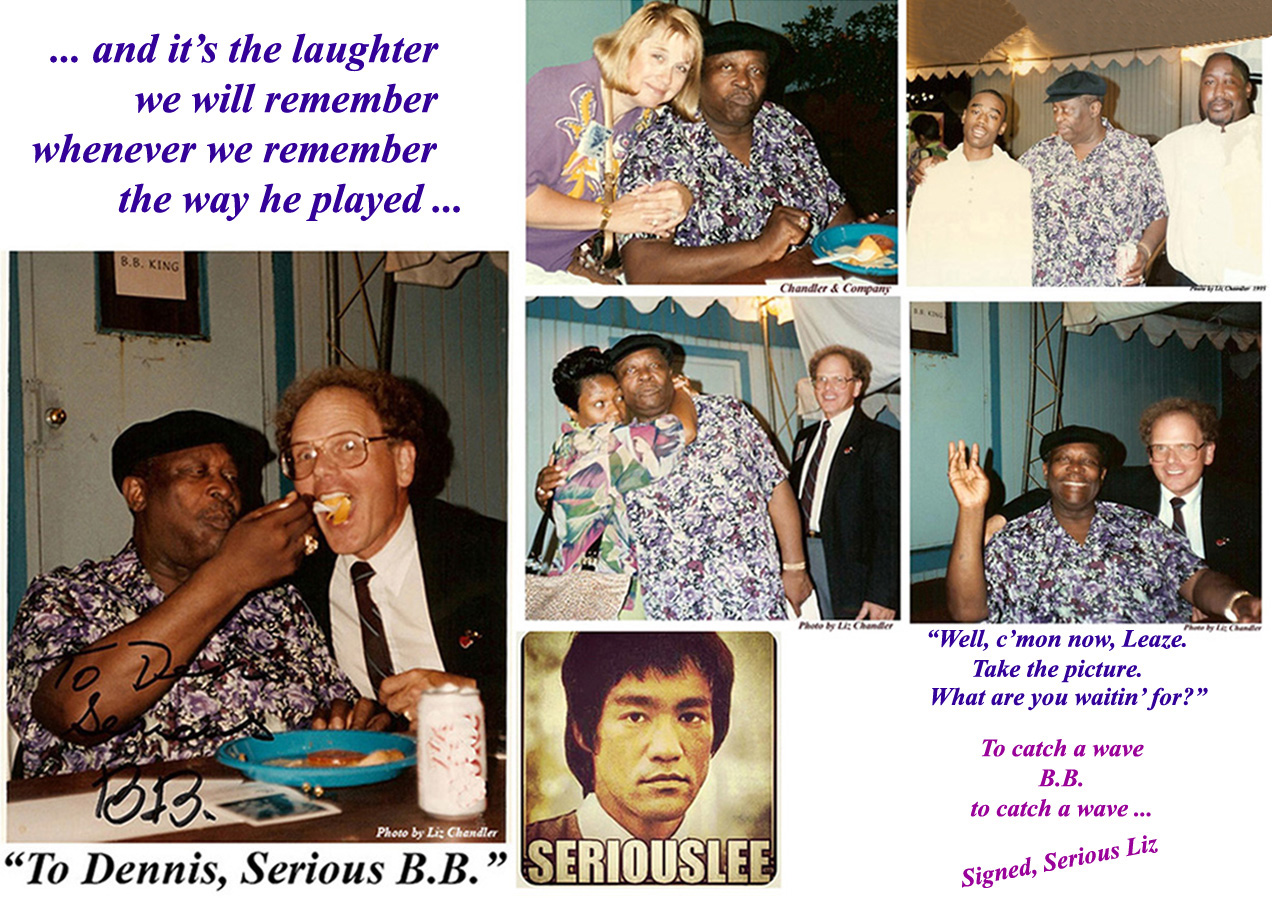 September 16, 2015 …. Happy 90th Birthday, BB.!
Liz Chandler, Web Writer aka "Mrs. Dennis"