Web Fleming & William Taggart
Web Fleming aka Hak San aka Pao Kong
William Taggart aka IATSE Teamster Bill Taggart
Ties That Bind: IATSE-Teamster-Tag Weaves Web & Den Together Again
Plus Olde Fleming Friend Lanny Shum
"How Den met Web – The Movie". It was thanks to IATSE Stagehand and Film Projectionist Bill Taggart aka William Taggart aka TAG. He introduced the two to one another back in '92. He told them, "You two should get together to play!" But, first the backstory of how they all met. Actually it was back in the '80s that Taggart-as-stagehand first met Dennis. It was when Chandler-as-ring-announcer worked wrestling matches in Cleveland, Ohio.
But, it was in the summer of '92 when they caught up with one another again. It was at a classic car cruise at Annabelle's Diner in Mentor, Ohio. That's when musician-Dennis realized that Taggart-as-projectionist must have also worked with his wife Liz. But, that had to be way back in the '60s. Tag mentioned he was the "new guy from IATSE" back then. As such he was a "Teamster-Swing" going to different shows. Turned out theatre-manager-Liz was working at the Colony at that time. She had been hired by Bill Lanese, first serving as his secretary then as his assistant manager. Later when Lanese left for Hollywood, RKO made Liz manager of the Colony (and the Vogue when its manager Frank Wheatley retired). So, in fact, Tag as a stagehand and projectionist had been working with both Dennis and Liz… way back in the day, as they say. Small world, Show Biz.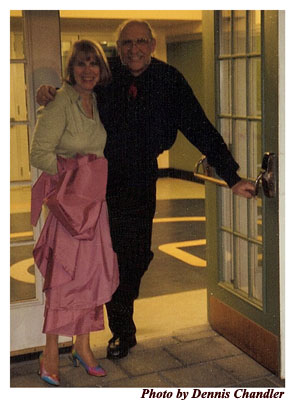 But, back to how Bill Taggart brought Web Fleming into the fold. All because of that classic car cruise musician-Dennis was playing for. It was near the end of the summer of '92 when car enthusiast Bill came crusin' with Web Fleming. He had hoped the two entertainers would hit it off. It worked. Web and Dennis fell right into playing and singing as if they had done it before. Yet, they weren't even formally introduced to one another until after they performed (or were they?) Photos of them "meeting" and then making music together show clearly how much they both enjoyed their first jam together, as did Tag. Here's a collage of that classic night, (so to speak).
Talk About An Early Asian Fusion… It was decades earlier when baritone Web Fleming aka HAK SAN made a name for himself. Literally for he was a show in himself. His name HAK SAN roughly translated means BLACK MOUNTAIN in Cantonese. It compliments his big baritone voice.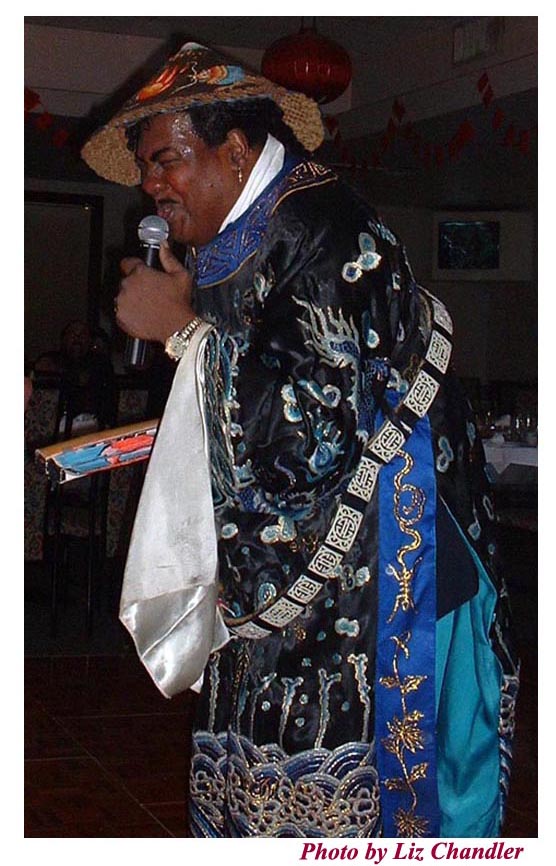 Web was honored with that name decades ago as we said. It was conferred on him while he was living in Asia and touring the Far East. For that time and place Web was unique, to say the least. He became famous as an AFRICAN AMERICAN SINGING CHINESE OPERA and in a dozen dialects, too. Web Fleming also became known for his interpretation of JUSTICE BAO of the SUNG DYNASTY (999-1062).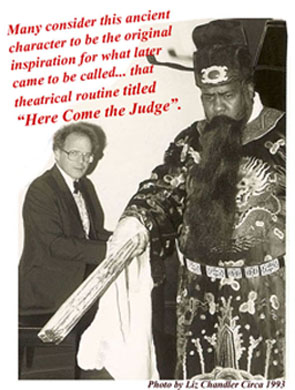 Going back even earlier in his history… As a GOSPEL SINGER Web Fleming always enjoyed making a JOYFUL NOISE which included the NEGRO SPIRITUALS he learned in his youth. As a BARITONE SOLOIST he toured with the famed WINGS OVER JORDAN CHOIR. It was a very young Web Fleming who saw for the first time what fame can do. He learned a lot about others things, too (during those pre-civil rights days). But, the choir was graciously received for they were world renown. By the way, those early radio broadcasts of NEGRO SPIRITUALS were aired from right here in Cleveland, Ohio… and heard all over the world.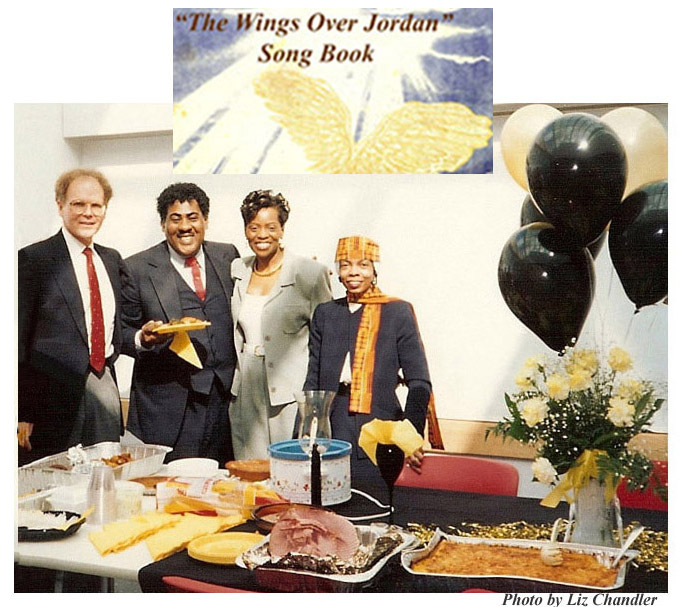 When Web and Den "decide to doin'" some good olde melodic music it'll always include giving them some of that "Olde Time Religion", too. Plus, whenever Web does his fabulous imitation of LOUIS ARMSTRONG it brings back wonderful memories for the Chandlers. Both recall fondly watching that great performer and then getting to meet him, too. THE GREAT SATCHMO aka LOUIE ARMSTRONG. What a Light. (But, that's another story.)
Go to the Detailed Bio to read more. It tells of other threads woven 'tween. Here are a couple of those threads in the tapestry. The blending of bluesmaster B.B. King, Web Fleming, comedian/ humanitarian/ activist Dick Gregory. (Plus of course Dennis Chandler and Tag, too.)
Lanny Shum: Another Friend in High Places… or… Just Up North in Canada Another Asian Fusion Friend met through Tag and Web was LANNY SHUM. It was at the LI WAH NEW YEAR CELEBRATION in 2000 that Dennis got to meet and musically fellowship with yet another renowned Asian performer. This one came from his home in TORONTO to headline here because of his friendship years ago with Web Fleming.
There's a fascinating story about their wonderful weeklong reunion and fellowship. Also how a chance meeting in downtown Cleveland in front of the Rock Hall lead to a chat with a tourist couple from Hawaii… finding out they all knew a mutual academic-friend of Web and Lanny's… a professor at PEKING UNIVERSITY.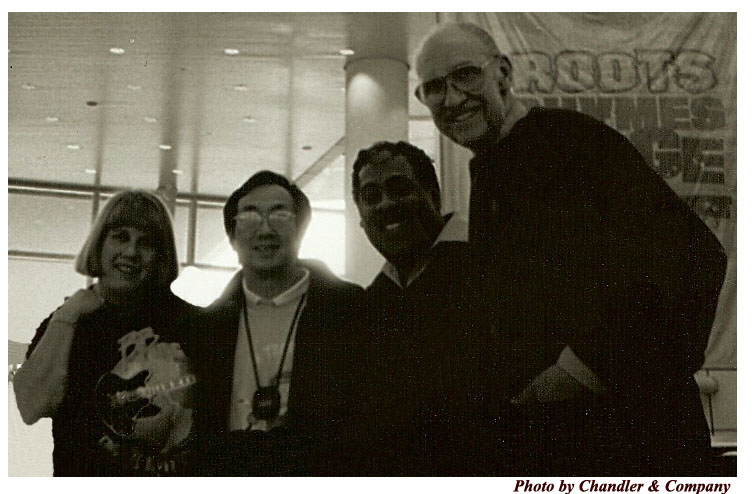 That chance meeting lead to everyone going out for DIM SUN (Chinese buffet).

Then that lead to a Musicale at the Chandlers.
Then a visit to GooGoo's Maltshop for some DIM SUM, of the Asian kind.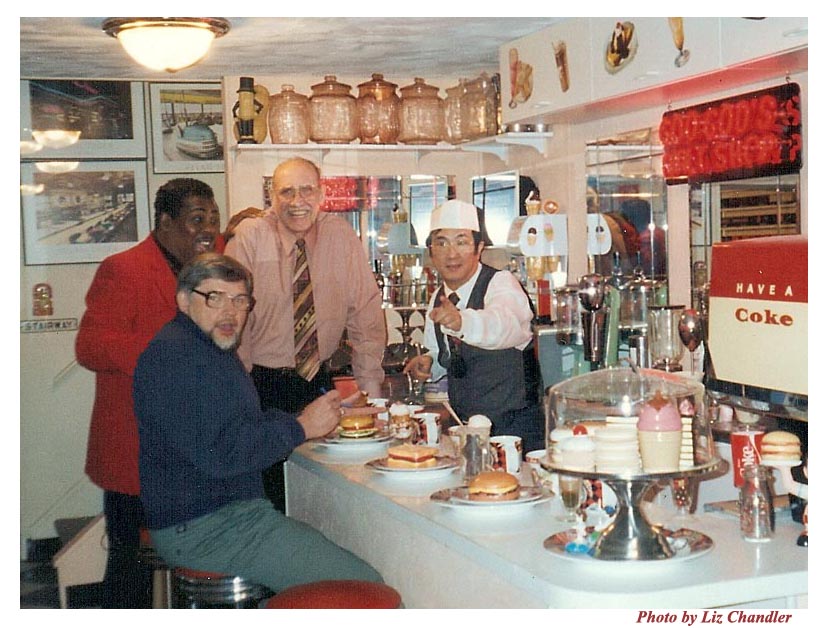 Oh, about that couple from Hawaii, Alice and Sefton Clark. They did extend  Invitations to Lanny Shum, Web Fleming and Dennis Chandler to perform overseas at the beautiful HAWAII THEATRE in their CHINATOWN. Pat answer for such long distance travel invitations? "You buy… I'll fly!" (Read: Funding is always appreciated fby and for anyone, in the Arts).
From Pearl Harbor to the North Coast Harbor… By the way, that couple, Sefton Clark & Alice Clark served on the board for the PACIFIC WAR MEMORIAL in PEARL HARBOR, HAWAII. As Chairman Alice and Sec'y Sefton said they were "on a much needed R & R". You can be sure "Lanny, Web and Den Together Again" gave them a good shot of "R & R"… "Rock'n'Roll", that is.. with a little rhythm and blues, too. Hence the invite, we guess.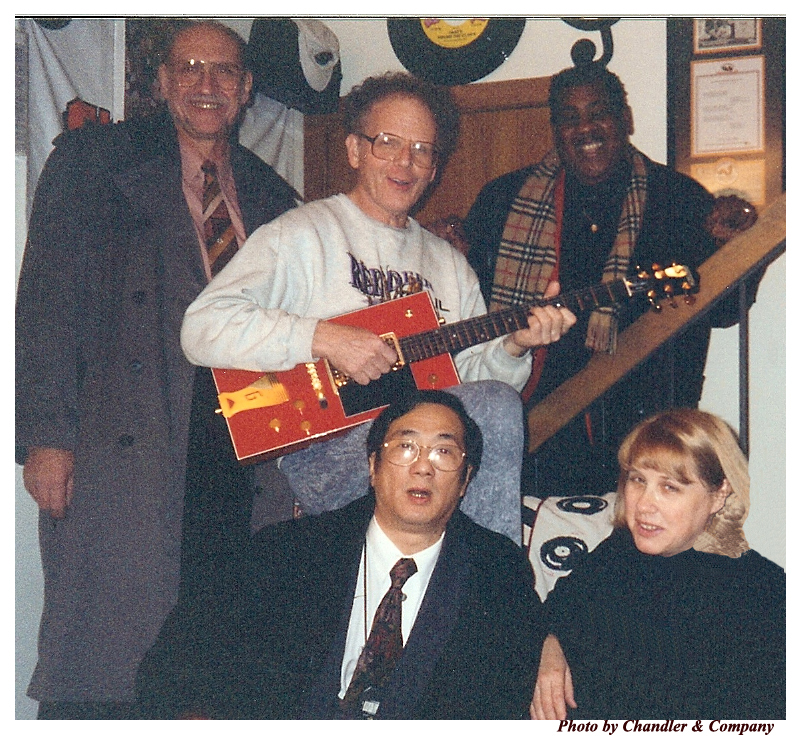 Dennis thought it could be fun, like they say, "Getting their act together and taking it on the road". Lanny Shum, Web Fleming and Dennis Chandler (with Taggart, too)… "NORTH, SOUTH, MEETS EAST, WEST"… does have a nice ring to it. A New Year Ring?
So, one can how CHINESE NEW YEAR aka SPRING FESTIVAL aka LUNAR NEW YEAR has become, for these creative-types, another wonderful holiday to celebrate. It has become a most welcome celebration of both cultural diversity and cultural similarity.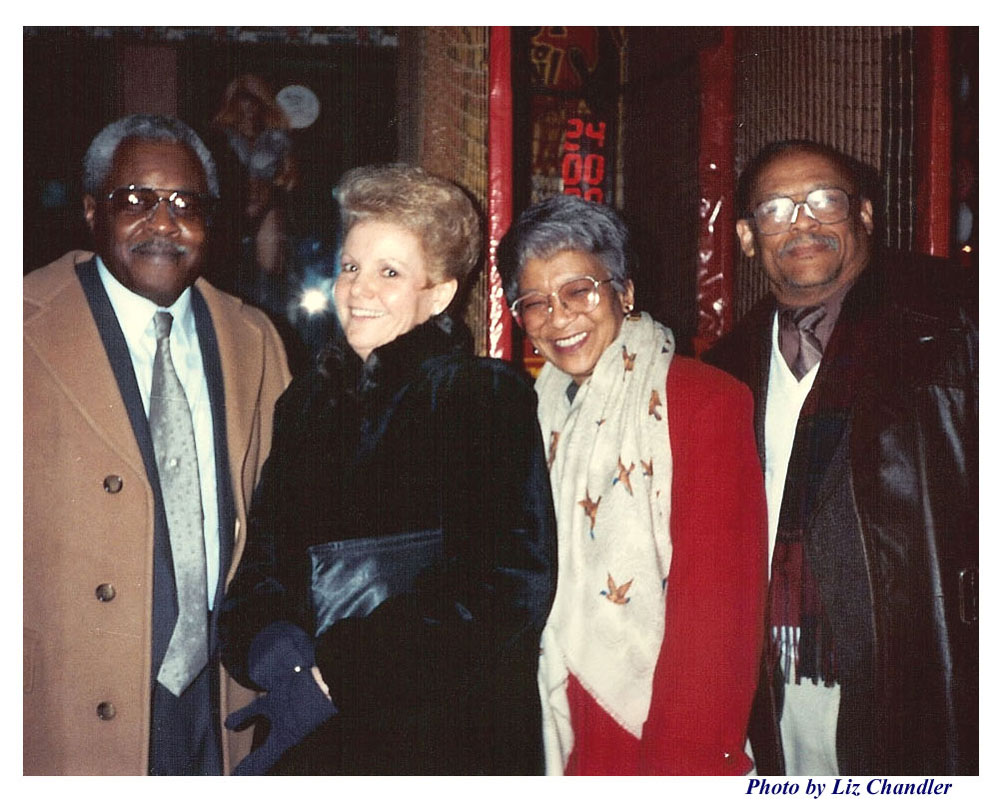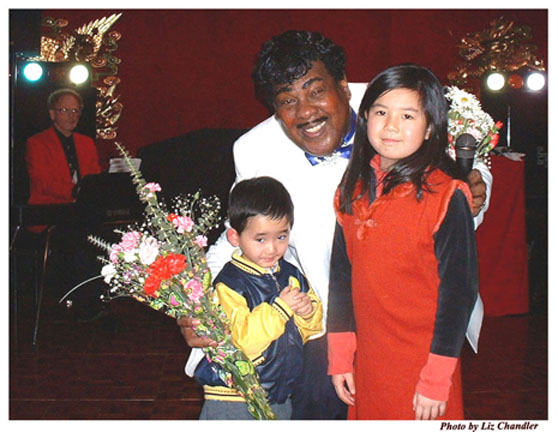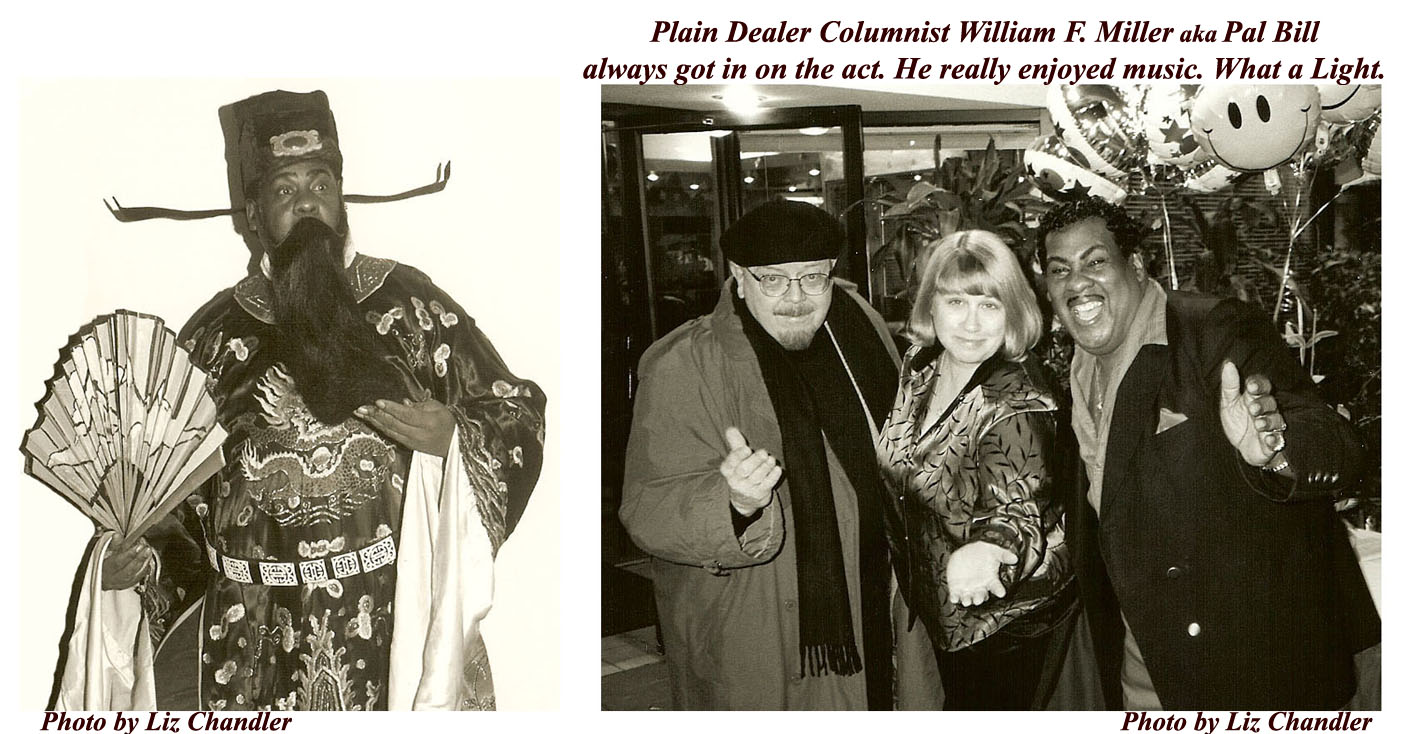 By, the way… about the other Bill. Tag's still busy today, always sharing. Mostly teaching the craft of presenting film as an IATSE elder (read: Master Projectionist).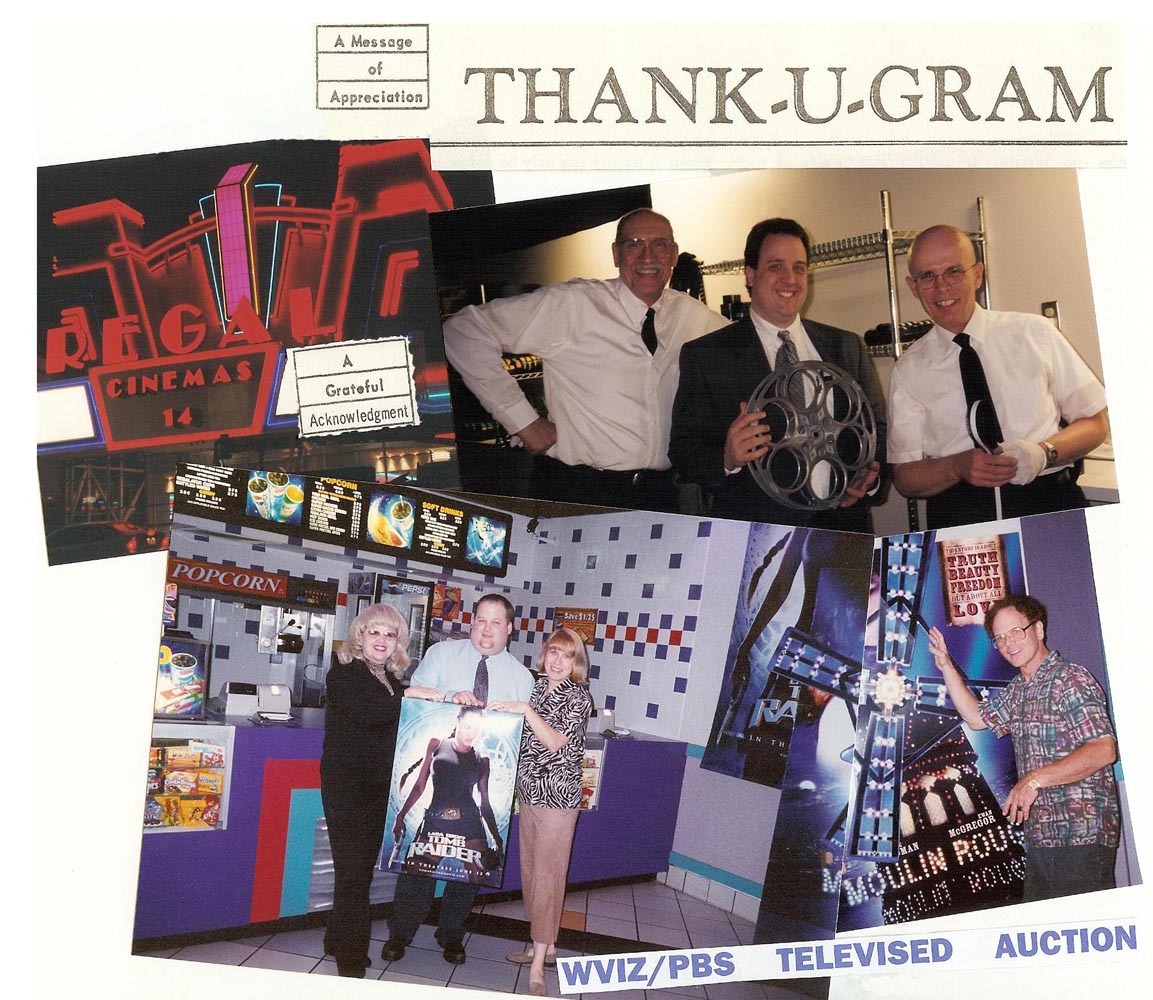 Also Taggart has tried to retire. But, Bill still gets tapped to do all the important film events; traveling 'round the world. Sundance, Dubai, Bahrain, DoHo Tribeca Film Festivals, to name just a few. Plus he's "Run film for the Royals" as in the land of the sand, United Arab Emirates.
As for his stage work; when called upon Stagehand Taggart never refuses. Taggart's a real trouper like that. Perhaps that's why he was elected PRESIDENT of IATSE.
Speaking of troupers.. In answer to the question, "Why's Taggart called Liz' pretend brother or play brother?" Bill does resemble her real brother Phil (tall and bearded).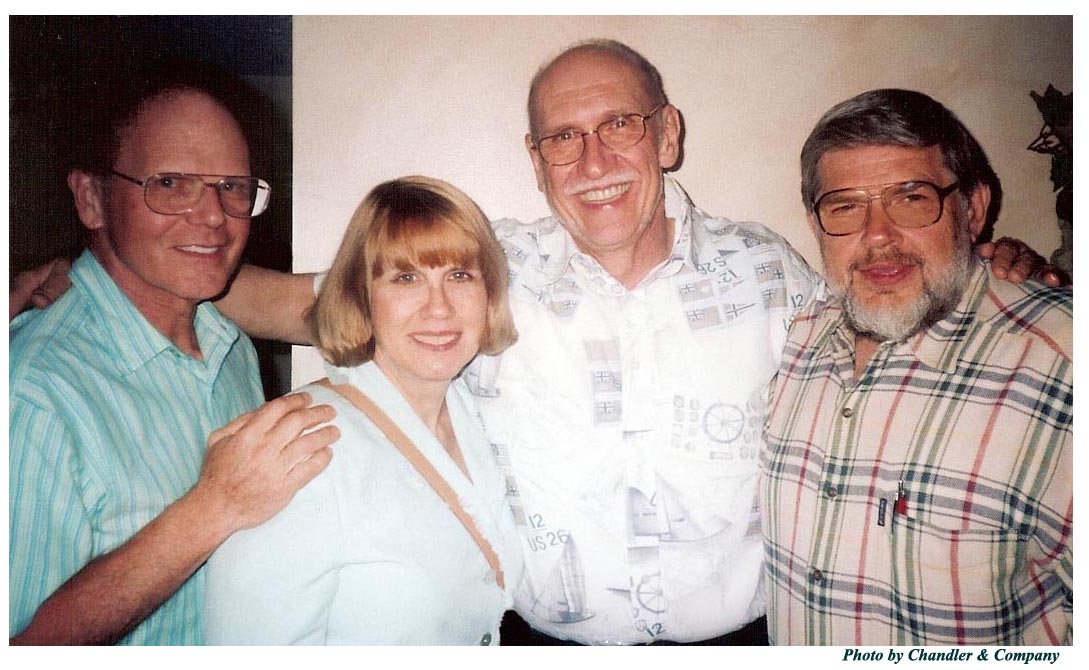 When Dennis' quizzed on the gig, he says, "Oh, those are Liz' bodyguards". Hence the joke about her having "a Teamster for a bodyguard".
###