Ruling Passion – A Musical Comedy About Richard III
Update 2013 Media Reports:  "WORLD RENEWED INTEREST IN ALL THINGS, RICHARD III" Why? Because bones from an unmarked grave in England have been tested via DNA to be… the bones of KING RICHARD III. What "timing". (Read: In our lifetime) This play might yet get mounted, so to speak.
Before one reads the following "Notes on Ruling Passion" by the late, lauded journalist and teacher Carol Bush; we excerpt from her obituary.
"Lauded Bay High School journalism teacher Carol Bush died Sept. 27, 2006 from complications of a rare blood cancer. She was 80. Bush taught for 22 years at Bay High and launched more than a few careers among graduates who have spread across the country. They include Chris Willman, formerly of the Los Angeles Times, later a music critic at Entertainment Weekly and Chris Sinzinger, an editor at the Washington Post. Other students landed at the Chicago Tribune, Mother Jones magazine and of course, the Cleveland Plain Dealer.
While at Bay High she steered the weekly student newspaper which won a record-breaking 18 awards in one year ('75-'76) including first place from the Columbia Scholastic Press Association and numerous other awards. After retiring from Bay High in 1990, Bush taught English at Lorain Community College and was a journalist workshop presenter at Kent State University and Bowling Green University. She had been a director of annual statewide high school journalism competitions.
Carol Bush was also a president of the Women's Committee of the Great Lakes Theatre Festival". Written by Donna J. Miller of the Cleveland Plain Dealer
——————————————————–
Now for Carol Bush's Notes on "Ruling Passion – A Musical Comedy About Richard III"
Liz-
"First, let me say that I hold the highest respect for Dennis and Deborah. In fact, I am in awe of both of them for having combined their talents to bring forth this magnificent work.
Only today, I read a feature on the film, "Moulin Rouge", described as "surreal" because, in an attempt to appeal to a wider audience, it brings contemporary music into a period piece. That retro-cum-current slant is apparent in "Ruling Passion", especially in the familiarity of the language of the 21st Century. The anachronistic humor of this device drew frequent smiles from this reader.
The Big Surprise was that Richard III is depicted as a Good Guy. What a switch!"
On all counts, of course, the music is superb. Bravo, Dennis!
Many thanks for letting me share these works. I feel honored!
Has this been submitted to the Playhouse? To Beck Center? (Known for experimentation)? Earlier when we spoke, you said it had never gone to Great Lakes Theatre Festival. Maybe the time is ripe to try.
Fondly,
Carol
——————————————————–
Saga of How Deborah & Dennis Met –
How "Ruling Passion" Was Written –
How It Was Received at Its Staged Reading
It was through their mutual friend BB KING that Deborah and Dennis met back in the early '70s. It was after Dennis expressed aloud that he wanted to compose music for the stage. When his long-time mentor, dear friend and "second father" (as B.B. calls himself), the blues legend said he knew the perfect person to introduce him to. It would be DETROIT ENTERTAINMENT REPORTER and CRITIC DEBORAH OSMENT RYAN. "Timing seems right for you two creative-types to finally meet", was the way B.B. put it. So they did.
It happened when we were "running on the road" with him, (as B.B. calls the way family and friends have to catch up with him while he's working on tour). This was when B.B. was becoming more and more popular, and thus one of his MOTOR CITY gigs was for two weeks in one place. There our foursome got to spend some quality time together (and in a quality place, too, for it was the then-new DEARBORN TOWN CENTER). B.B., who admittedly loves to oftentimes play "Mother Hen" with such close friends, managed to steer the two creative-types to many a late-night coffee klatch (held in B.B.'s suite after his performances). It was the days of his being able to walk freely amongst the huge Dearborn Center; saying "let me walk you home" meaning we'd go from our adjoining suite down the hall, then we'd walk him back to his suite. Then we'd stop, looking over the balcony railing people-watching. (Imagine the scene. The four of us being so free just to be!) In addition, Deborah-the-music-reporter managed to get other blues legends to come 'round for conversations of the musical kind. (Read: Jam Sessions!)
It was during those wonderful weeks in Detroit that Deborah and Dennis spoke of collaborating on a couple of future projects. One such project discussed was her idea of a "Musical Comedy about Richard III". That idea appealed to the Composer-in-Chandler. She said she would get back to Dennis after she wrote the book and lyrics so that he could write the music.
A few years later, in '74, Deborah and Dennis discussed it again. This time it was in Windsor, Ontario where she was working to promote the "Ann Arbor Blues & Jazz Festival in Exile". Musician Dennis was there playing with two of his musical mentors and teachers Robert Jr. Lockwood and B.B. King.  A great success of the landmark weekend earned kudos all 'round. Here's headliner B.B. getting his congrats in a hug from promoter Deborah.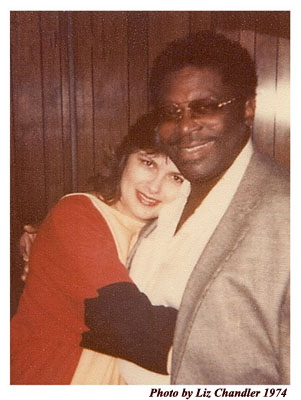 Talk of writing the play continued but years later. This time it was in February of '87. That's when B.B.King flew us to New York City to join Deborah and him as his guests for his induction to the Rock and Roll Hall of Fame.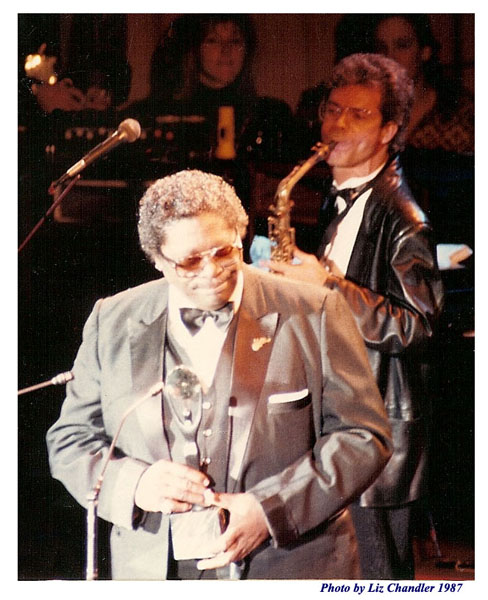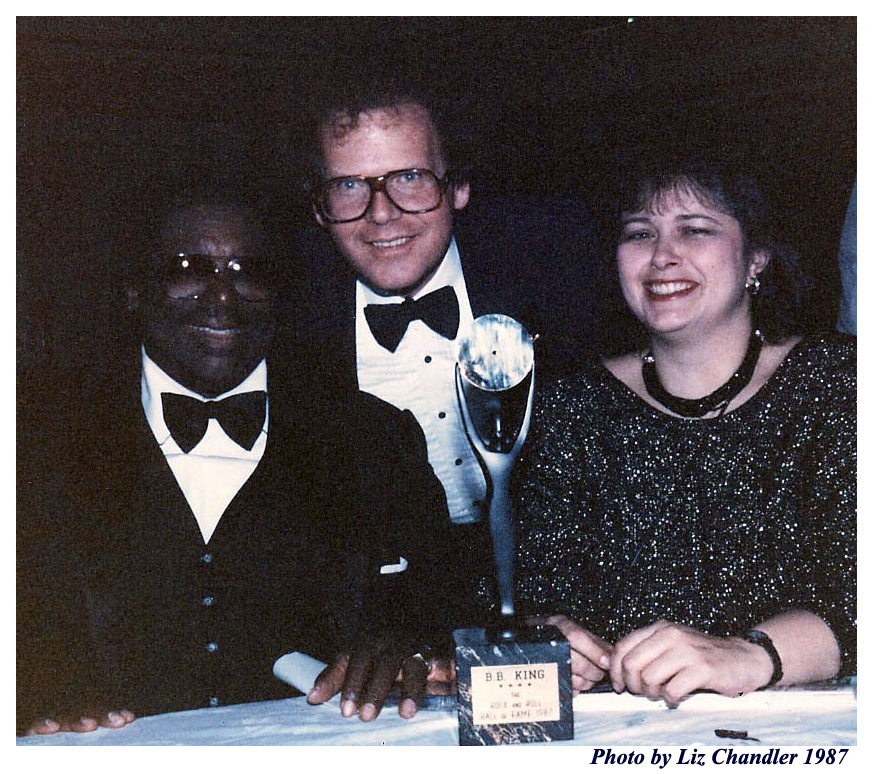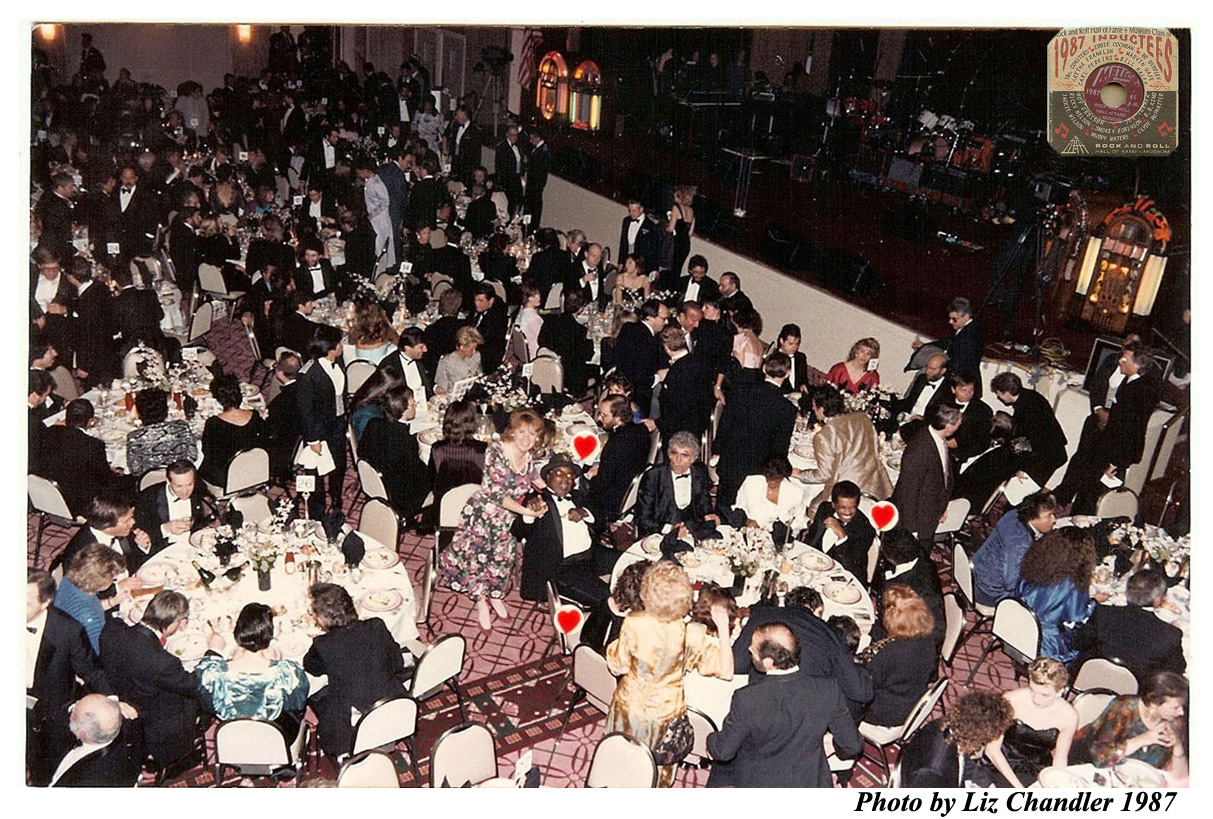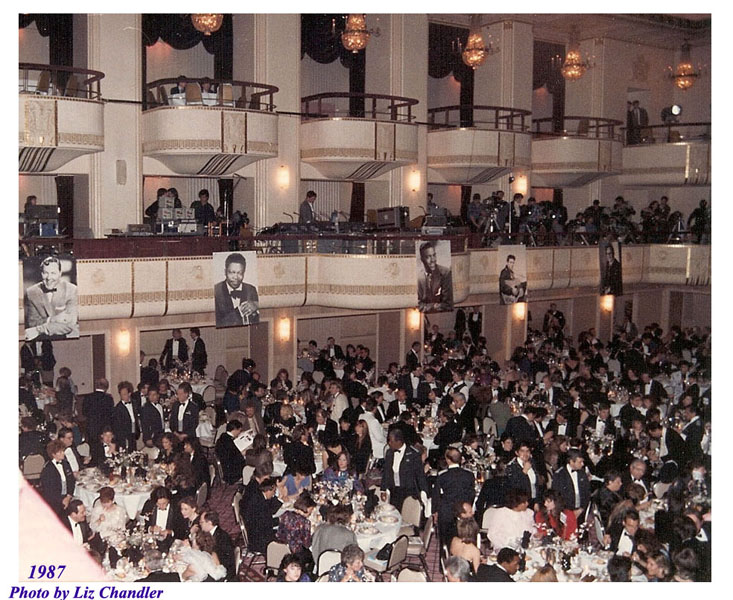 Forecast for a BIG snowstorm forced B.B. to leave out early for the road. The three of us left the Waldorf Astoria to go to City Island where Deborah was living at the time. Then the blizzard hit. We were snowed in. There was nothing to do in her little place. So Deborah and Dennis started to write the music for "Ruling Passion" during the "N'or Easter" that became "The Blizzard of '87".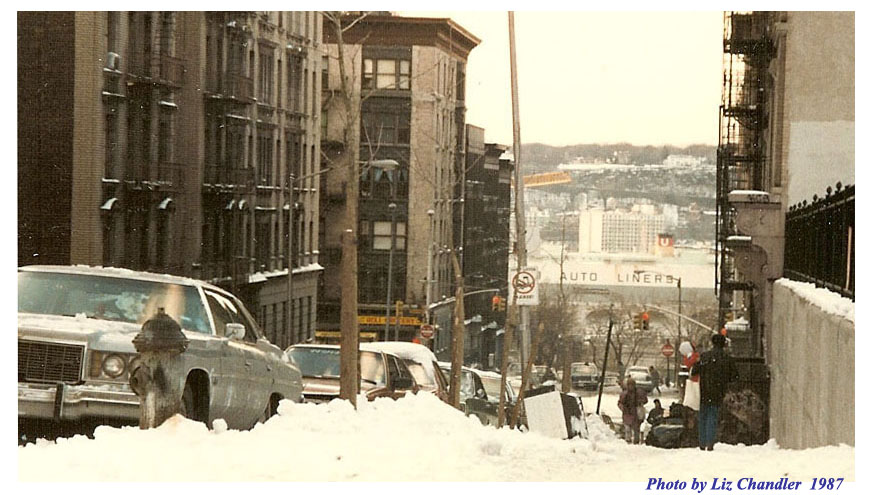 February saw that fitful start of the music. Progress on the play continued but then later that year, Dennis was struck down by cancer (in November). His battle and victory over AML is written about on this website. The page is titled, "The Journey".
After his incredible battle (and his near-death experience "Go back, my son, it is not yet your time. Your calling is on Earth!"), he completed the score. For Dennis, this play's music is particularly meaningful and seemed fittingly titled "RULING PASSION", for he began the music before he began the treatments for leukemia.
Rounds of ravaging chemotherapy left him listless physically but not mentally. Desire to write the-music-in-his-mind gave Dennis a much-needed positive focus.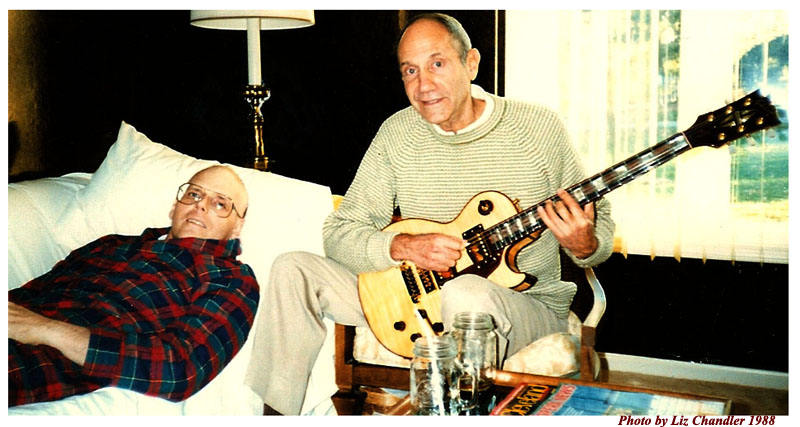 For Deborah, the play took on a less favorable focus. To explain, after she moved from Detroit to L.A. (reasoning that more opportunity might come her way to do creative writing), she set what should have been for her, easily attainable goals: Become a screenwriter; make movies that make money so plays could be mounted. (Not just her own plays but those of other writers, too.) Her dream lost its luster when one of her sons, David Ryan was killed tragically in an accident caused by a drunken driver (on a Hollywood freeway).
Thus, bittersweet were the rewards of a successful first reading of the play. It was held in 1990 before an audience of Shakespearean actors at THE AMERICAN CENTER FOR MUSIC THEATRE. Deborah called Dennis from L.A. to inform her then-convalescing collaborator that "the music was overwhelmingly received!" "Incredible music, who is this composer? To quote the lamented, late NORM MAYBAUM, (then considered the premiere theatre figure and power behind the famed WESTWOOD THEATRE).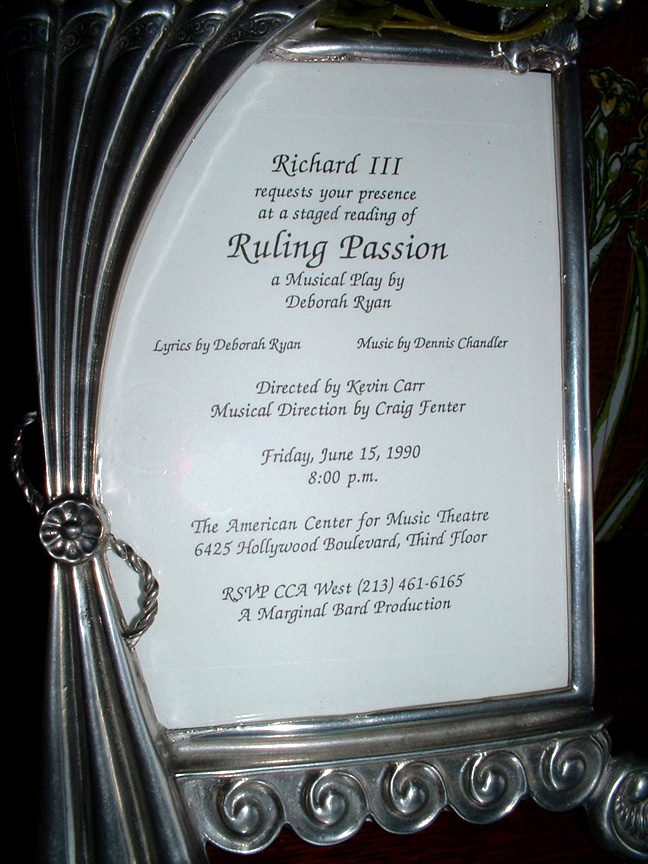 The next move in mounting the play would be a matter of money, they were told. That is, a budget big enough to buy lots of stage armor and horses, too. Then 9/11 hit and of course we all are forever changed… including theatre priorites and budgets.
Needless to say, for Dennis the rave reviews of the music was good news while at the same time frustrating news. It's been a long, long "coming out of the woods", so to speak. Maybe the time is right to find the right angels and this "RULING PASSION" will live on.
Liz Chandler
Website Writer