Pilgrims Band
From Pioneers To A Pilgrim On The Rocks
$ But Without The Rolls $
October 4, 2010 Update … With the recent reuniting of Dennis and another DRAGAS Family member, MIKE DRAGAS, JR., (he's joined the Dennis Chandler Band aka Stratophonics), there is a renewed interest in their background together. Particularly having to do with THE PILGRIMS band. His late uncle, PETE DRAGAS was the bass player. Other musical connections make for interesting reading, too, but that's for another posting. HINT: MIKE DRAGAS SR. is a well-known polka musician, a well-respected former record executive (i.e., at W.E.A. aka WARNER, ELEKTRA, ATLANTIC). Mike Sr. was another mutual longtime close friend with the late, great rec-exec…  STEVE POPOVICH. (Who, we should say, would be going CRAZY; loving the Glenn-and-Den-Together-Again thing. Plus, now it's a Dragas-and-Den-Together-Again thing goin' on, too.. with Pete's nephew, "Mikey". Popovich aka "Poppy" and Mike Sr. aka "Pappy" have to be diggin' it!)
Before we return to the backstory of the boys.. A big shoutout of "Thanks!" to another Mike… Mike Yates, owner of Mike's Barn aka Mike's Jazz Collective. It was his booking of Glenn and Den on the same bill… that caused the opportunity for an inspired Glenn to invite Den not just to jam but to join his SCHWARTZ BROTHERS BAND. What a Thanksgiving it turned out to be that year (2011). Now all this year, the interest keeps growing, in the boys' background, that is (pardon the pun). Suffice-it-to-say-here.. they go waaayy back to their childhood days growing up together in the Collinwood/  Euclid, Ohio.  One can read more about that on the page titled with their names and sub-titled "Glenn and Den Together Again")  But, for now.. here's more about their band called The Pilgrims.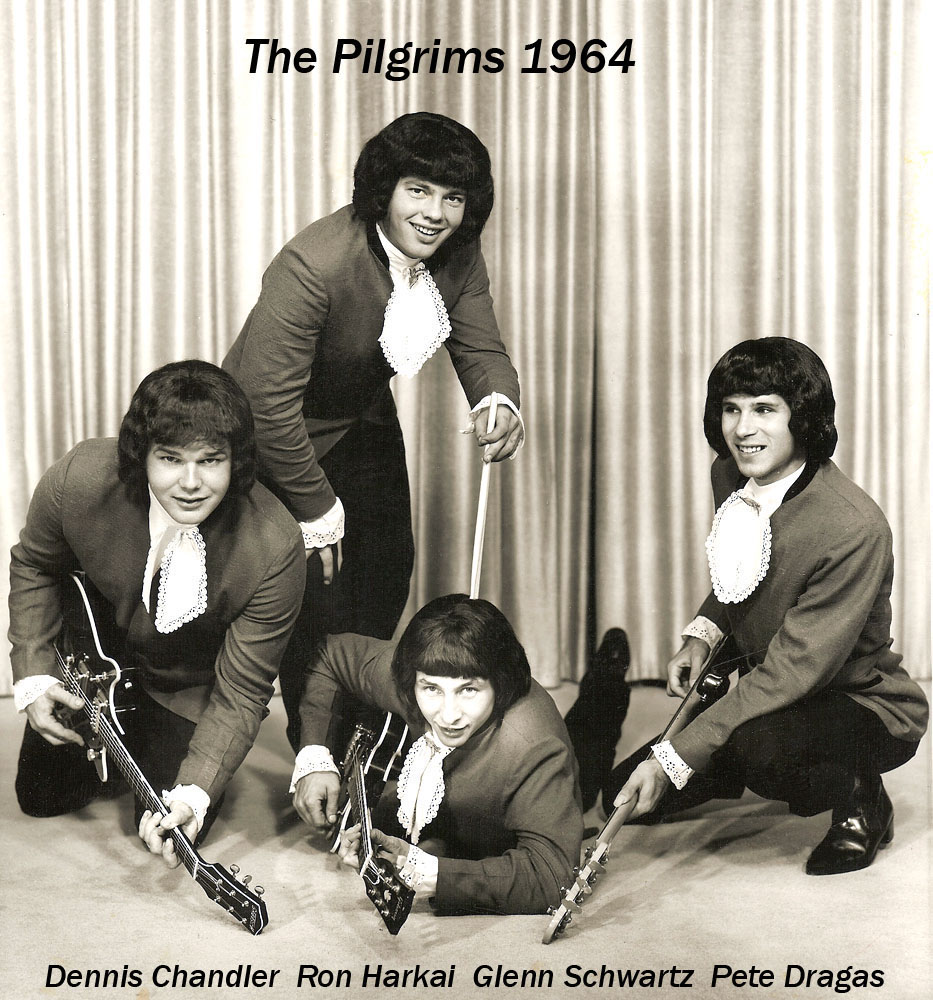 After college Dennis helped form THE PILGRIMS. As houseband for DETROIT'S LEGENDARY RADIO STATION POWERHOUSE, CKLW, they backed many groups LIVE like The Supremes, Four Tops, Temptations, The Isley Brothers, Mary Wells, Shirley Ellis, Marvin Gaye, Smokey Robinson, Little Eva, Bobby Vee, Gary "U.S." Bonds, Ronnie & The Daytonas, Mitch Ryder & The Detroit Wheels, Bobby Rydell, Bobbie Martin, Del Shannon, Dobie Gray, Freddie Cannon, Chuck Berry, Little Richard (to name just a few).
The boys in the band thought perhaps the prominence THE PILGRIMS enjoyed was due, in no small part, to being booked by the area's REGIONAL RADIO POWERHOUSE, the aforementioned CKLW. The band was made up of bandleader Chandler, Glenn Schwartz, Ron Harkai and the late Pete Dragas. (Yes, that's the same Dragas name mentioned earlier on this page. The late Pete Dragas' nephew is Mike Jr., son of Pete's brother Michael. Again, the beat goes on!)
But, back to about this band and how they found themselves extremely well received by audiences. "Being that it was the early 60′s, BLUES AFICIONADOS were glad to have THE ROOTS OF ROCK'n'ROLL exposed by this pilgrim band. For that time and place they were APTLY NAMED!" said manager and CKLW PROGRAM DIRECTOR DAVE SHAFFER. The radio station is where Dennis also began his friendship with popular onair personality "THE DUKER" aka LARRY MORROW, who later came to Cleveland. But playing around the Detroit area made that music scene a Music Graduate School of sorts, earning Dennis an early DOCTORATE IN DIVERSITY, too, so to speak. What he'd learned served him well in the EARLY 60′s and again in the LATE 60′s during that TURBULENT TIME OF SOCIAL UNREST. (Translating into music, yielding the song Den titled "FENCES". There's more about that song on the page titled the same.)
Those early days in Detroit made for some of Dennis' fondest musical memories, too. Including the many personal appearances (more will be written as they are recalled). But, now we tell how nothing but good has come from one memorable musical moment or should I say 180 memorable moments? That's how long the recording session was for the THE PILGRIMS REGIONAL HIT RECORD, "PLYMOUTH ROCK" (written by Chandler and Dragas). The flip side of that record has the song titled "MAUDY" written by John Lee Hooker and arranged by Glenn Schwartz. It was recorded in 1964 at KEN HAMANN's CLEVELAND RECORDING STUDIO. In 2011, his son PAUL HAMANN contacted Dennis Chandler via FACE BOOK. He found the original master tapes! He asked Dennis would he "like to have a new mix on CD?" So, LIKE FATHER, LIKE SON… THANKS TO THE GRACIOUS HAMANNS, you can enjoy "PLYMOUTH ROCK" for the first time or for old times. Plus, thanks goes to PILGRIM drummer RON HARKAI, for again helping with putting music on this website. "YOU ROCK", RON! Back to about PAUL HAMANN. He is a, (pardon the pun), masterful producer himself. He owns the renowned SUMA RECORDING STUDIO in Painesville, Ohio. Now, you get to listen to THE PILGRIMS, here in GOD'S CYBERSPACE. Enjoy.
Now about the Pilgrims' performances back in those Windsor/ Detroit days. They played at WALLED LAKE CASINO. THE MICHIGAN THEATRE, THE TWENTY GRAND, THE GAY HAVEN, THE RED ROOSTER… Plus THE PILGRIMS OPENED FOR THE ROLLING STONES' SOLD-OUT CONCERT AT COBO HALL… and watching THE SUPREMES RECORD THE VOCAL TRACKS FOR WHAT WOULD LATER BECOME THEIR FIRST HITS. Dennis recalls another unique HITSVILLE USA recording session where he witnessed men with 2x4s STRAPPED TO THEIR FEET TAPPING OUT RHYTHM TRACKS THAT WERE USED FOR MANY OTHER MOTOWN HITS, TOO. Dennis had the pleasure in reminiscing and recalling even more memories with members of the legendary FUNK BROTHERS just a couple of years ago. It was down at the Local 4 Union Hall, when they were rehearsing for a concert held later at the Rock Hall.
Although the pioneering band seemed to have arrived, they did not land one special deal. A successful studio audition for HITSVILLE's powers-at-hand brought a dream of an offer. At the same time guitarist GLENN SCHWARTZ missed his swear-in date with a NATIONAL GUARD officer (arranged via ARMY contacts Chandler made serving musical duty for the military). Thus evaporated the band's "chance at the Big-time". With those untimely draft notices; A PROMISED CONTRACT FOR THE PILGRIMS "TO BE MOTOWN'S FIRST WHITE GROUP", WENT UNSIGNED.
Where three of the four Pilgrims did land was in the military. But, before disbanding (pun intended) they also served as the studio band on other recordings, too. Since often times session work was just that (read: work), band members rarely recall details.
However, for Dennis one studio session was made more memorable because he got to incorporate a syncopated guitar riff that BO DIDDLEY taught him. The song? "JUST LIKE ROMEO AND JULIET" by the vocal group called "THE REFLECTIONS". Dennis said they were a JOY to work with; whether making music with them onstage (as backup) or in the studio (as a per-session scale-pay musician). So whenever fans of that HUGE hit share how much they enjoyed it; Dennis gets to recall the fun of doing it. (Which is good because he said often times one can't be sure if the tracks that are recorded are the same tracks on the final mix. That happened a lot back in the day!)
Allways A One Night Stand For A Good Backup Man
That band wasn't the only band he and fellow PILGRIM bandmembers would find themselves "almost making it" with. The next almost-made-it-with-them bands included Cleveland's TOM KING and THE STARFIRES later known as THE OUTSIDERS. They had the hit record "TIME WON'T LET ME". Those sessions at KEN HAMANN'S CLEVELAND RECORDING made for some lasting impressions. Or did they? After a falling out, drummer RON HARKAI WAS AIR-BRUSHED OFF THE ALBUM COVER. This for him must have added insult to injury because it was the drummer's dad who had paid for that recording session.
Perhaps because of the power of rock songs from one's youth and with the passing of time, there appears to be greater interest in the history of those early bands. So many musicians were involved that memories may seem blurred like through a revolving door. Dennis once told Starfires/ Outsiders lead singer SONNY GERACI; it's fun to get another's perspective given the distance of time. For example, every year there are more tales to tell at the annual CLEVELAND MUSICIANS REUNION. Also called the AGORA PICNIC it is hosted by Agora powers-that-still-be, HANK LoCONTI along with BUDDY MAVER, his wife Carol and the power-behind-the-throne, Carol CJ Palladino.  In Buddy's backyard under a just-right circus tent it is a big top, of sorts. One can see many a musician finding past bandmembers to reaquaint with and compare notes with, pardon the pun. It's like in the TOM HANK'S movie, "THAT THING YOU DO", Dennis Chandler said, he "could really relate to that movie!"
So, one see there's a theme here… "GLenn & Den Together Again"…  "A Dragas & Den Together Again"… perhaps we'll see a "Pilgrims Together Again"… one never knows.. do one?
Signed. Liz Chandler
Web Writer