Pilgrims Band
From Pioneers To A Pilgrim On The Rocks $ But Without The Rolls $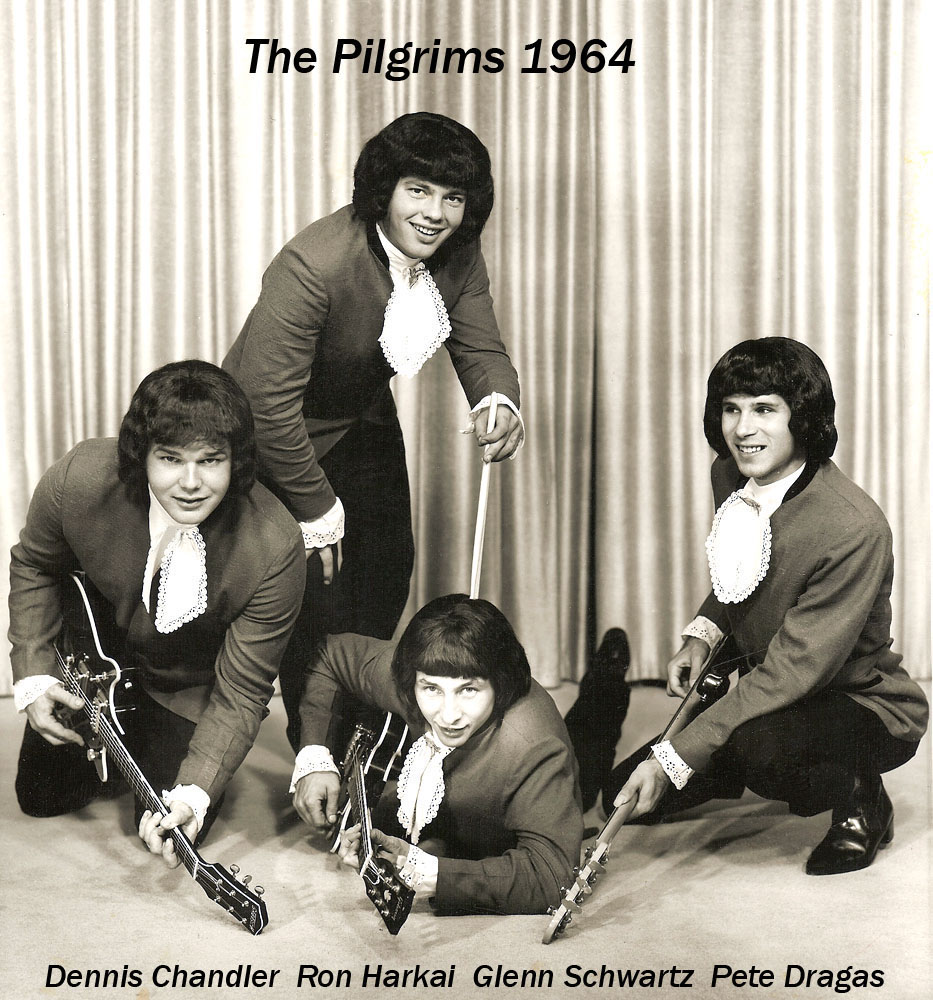 While still in Cleveland musician-Dennis and a group of his hometown friends formed a band and called themselves, "The Pilgrims" Perhaps the name was fortuitous for they seemed aptly named. Playing around … those places and in those times… in Detroit's musical history? It was: Priceless.
First about the band members in "The Pilgrims": There was the virtuoso guitarist Glenn Schwartz, with whom guitarist-Dennis loved sharing lead solos. Plus pianist-Dennis doubled on organ. Any rhythm chords he added, he said, "was pure pleasure" for the band had an already pulsating rhythm section… what with Ronald Harkai on drums and the late Pete Dragas on bass. (Together they were able to give, what mentor BB King often described to "adopted-son-Dennis" … as that feeling of "what brung ya to the dance"… "music that included… a walkin' bass with a shufflin' beat!") So it was not surprising once heard, the boys in the band were asked to back up many early rock and rollers (through connections at HITSVILLE and MOTOWN RECORDS). Then The Pilgrims became the HOUSEBAND for the legendary powerhouse RADIO STATION "CKLW". In support of the station's musical format there were many various live events and promotions. Musician-Dennis had even more opportunity to play for those diverse audiences. Plus pianist-Dennis also became arranger and accompanist at many after-parties, too. House parties of fond memory include the ones at the residences of Rev. Cecil Franklin (Aretha's father) and Hank Ballard, to name just two. (Talk 'bout "stand and deliver"!) But, "the baptism-by-fire" of Dennis was via the originators of rock… the BLUESMASTERS themselves. Hard learned but lovingly taught lessons that included the age-old Oral Tradition of "Good, good. Alrighty, now try it this way". Those teachings brought home… from Dennis' days of playing around the Detroit/ Windsor area… in the EARLY and MID 1960′s… helped him to cope… in the LATE 1960′s.
Managing some of the band's bookings was CKLW Program Director Dave Shaffer. He had them backing up many groups LIVE. To list just a few here… The Supremes, Four Tops, Temptations, The Isley Brothers, Mary Wells, Shirley Ellis, Marvin Gaye, Smokey Robinson, Little Eva, Bobby Vee, Gary "U.S." Bonds, Ronnie & The Daytonas, Mitch Ryder & The Detroit Wheels, Bobby Rydell, Bobbie Martin, Del Shannon, Dobie Gray, Freddie Cannon, Chuck Berry, Little Richard. By the way, CKLW is where Dennis also began his friendship with popular onair personality "The Duker" aka Larry Morrow, who later came to Cleveland.
Those early days in Detroit made for some of Dennis' fondest musical memories, too. Including the many personal appearances (more will be written as they are recalled). But, now we tell how nothing but good has come from one memorable musical moment or should I say 180 memorable moments? That's how long the recording session was for the The Pilgrims regional hit record, "Plymouth Rock" (written by Chandler and Dragas). The flip side of that record has the song titled "Maudy" written by John Lee Hooker and arranged by Glenn Schwartz. It was recorded in 1964 at Ken Hamann's Cleveland Recording Studio. In 2011, his son Paul Hamann contacted Dennis via FACE BOOK. He found the original master tapes. He asked Dennis would he "like to have a new mix on CD?" So, like father, like son… thanks to the gracious Hamanns, you will be able to enjoy the song for the first time or for old times. About Paul Hamann. He is a (pardon the pun), masterful producer himself. He owns the renowned Suma Recording Studio in Painesville, Ohio.
Now about where the Pilgrims performed back in those Windsor/ Detroit days. They played at WALLED LAKE CASINO. THE MICHIGAN THEATRE, THE TWENTY GRAND, THE GAY HAVEN, THE ROOSTER TAIL and many others. Plus at COBO HALL (?) THE PILGRIMS opened for a sold out ROLLING STONES CONCERT. Another fun place was HITSVILLE USA RECORDING STUDIO. That's where Dennis watched THE SUPREMES RECORD THE VOCAL TRACKS FOR WHAT WOULD LATER BECOME THEIR FIRST HITS. He also recalls another unique HITSVILLE session where he witnessed men with 2x4s STRAPPED TO THEIR FEET TAPPING OUT RHYTHM TRACKS THAT WERE USED FOR MANY OTHER MOTOWN HITS, too. Not too many years ago Dennis had the pleasure in reminiscing and recalling even more memories with members of the legendary FUNK BROTHERS. They were down at Cleveland's AFM Local 4 Union Hall (rehearsing in advance of a Rock Hall concert).
Although the pioneering band seemed to have arrived, they did not land one special deal. A successful studio audition for HITSVILLE's powers-at-hand brought a dream of an offer. At the same time guitarist GLENN SCHWARTZ missed his swear-in date with a NATIONAL GUARD officer (arranged via ARMY contacts Chandler made serving musical duty for the military). Thus evaporated the band's "chance at the Big-time". With those untimely draft notices; A PROMISED CONTRACT FOR THE PILGRIMS "TO BE MOTOWN'S FIRST WHITE GROUP", WENT UNSIGNED.
Where three of the four Pilgrims did land was in the military. But, before disbanding (pun intended) they also served as the studio band on other recordings, too. Since often times session work was just that (read: work), band members rarely recall details.
However, for Dennis one studio session was made more memorable because he got to incorporate a syncopated guitar riff that BO DIDDLEY taught him. The song? "JUST LIKE ROMEO AND JULIET" by the vocal group called "THE REFLECTIONS". Dennis said they were a JOY to work with; whether making music with them onstage (as backup) or in the studio (as a per-session scale-pay musician). So whenever fans of that HUGE hit share how much they enjoyed it; Dennis gets to recall the fun of doing it. (Which is good because he said often times one can't be sure if the tracks that are recorded are the same tracks on the final mix. That happened a lot back in the day!)
Allways A One Night Stand For A Good Backup Man
That band wasn't the only band he and fellow PILGRIM bandmembers would find themselves "almost making it" with. The next almost-made-it-with-them bands included Cleveland's TOM KING and THE STARFIRES later known as THE OUTSIDERS. They had the hit record "TIME WON'T LET ME". Those sessions at KEN HAMANN'S CLEVELAND RECORDING made for some lasting impressions. Or did they? After a falling out, drummer RONALD HARKAI WAS AIR-BRUSHED OFF THE ALBUM COVER. This for him, at the time, must have added insult to injury because it was the drummer's dad who had paid for that recording session.
Fellow band members later went on to play in many a diverse band or two… too numerous to list now. But, briefly, we mention: the virtuoso guitarist Glenn Schwartz was in "The James Gang" (as was Dennis for a very short stint), then Glenn went with "Pacific East & Electric". Drummer Ronald Harkai was in "Tom King & The Starfires" (as was Dennis) then "The Outsiders" (as was Dennis for a brief time). The above-mentioned hit record, "Time Won't Let Me" is considered an iconic rock song… a timeless one for many. For example, the singer who recorded the lead vocal… Sonny Geraci. Dennis still sees and fellowships with his former bandmate. He visits him often as Sonny is still recovering from brain surgery. They have a standing "Smooze Date". But, it's more of a "Musical Kaffe Klatch" than a "Tuesdays with Morrie" format, (referencing that famous bestseller). Why so? Sonny's lengthy recovery has the singer sequestered. Dennis finds giving updates on his own gigs helps his former bandmate with a form of musical therapy. Any news of what Dennis' current band "The Stratophonics" do… and the music they make… brings back musical memories of their days together (in "The Starfires" & "The Outsiders"). Seems Sonny recalls every last lyric he sung while Dennis recalls all the music he played with him, from back in the day. So, perhaps "Time will let them"… make music together again… playing out, one day? Dennis believes so, as does Sonny. For every visit bandleader-Chandler always gets asked about arrangements, key signatures, etc. Oh, the HEALING POWER OF MUSIC!
Perhaps because of the power of rock songs from one's youth and with the passing of time, there appears to be greater interest in the history of those early bands. So many musicians were involved that memories may seem blurred like through a revolving door. But, Dennis has learned that for many… "It's fun to get another's perspective given the distance of time!"
Signed. Liz Chandler
Web Writer January 2017