Ma-Xiao-Hui Meets Dennis Chandler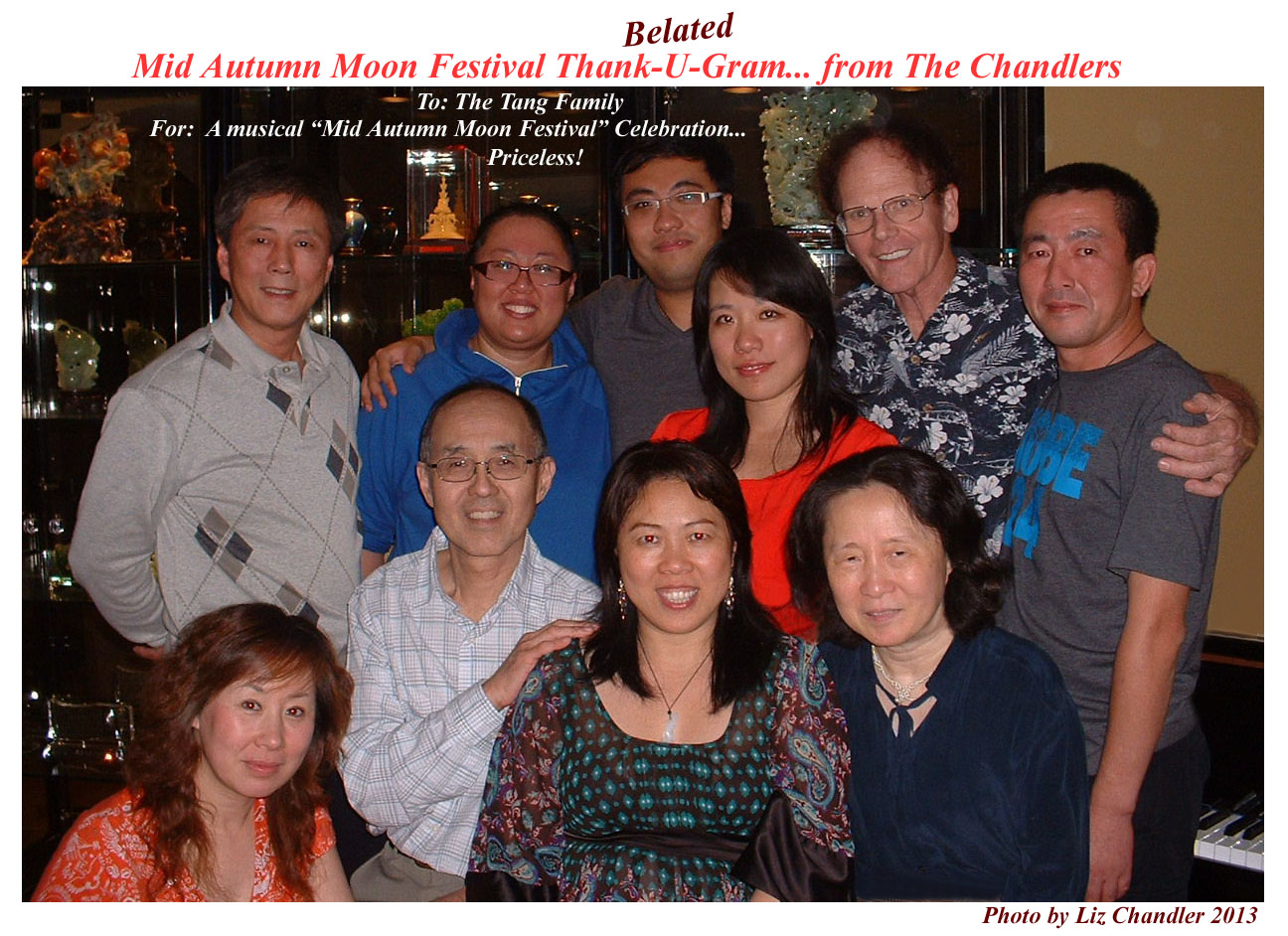 East Meets West, North and South: Legs on a Journey of World Class Musicians
(Click on the above titles to hear the songs)
The Backstory of How Ma-Xiao-Hui (Shanghai Traditional Orchestra / Hong Kong Music Society) & Pianist-Dennis Chandler & Baritone Web Fleming Met… Made Music
We go back a little before the above shot was taken for the backstory… Talk about the theme of Asian Fusion… the late Columnist WILLIAM F. MILLER and his wife MARIA MILLER loved to hear good melodic music. They would come to hear musician-Dennis play, wherever he was. So since Bill Miller worked at Cleveland Plain Dealer (as an award-winning columnist) he got to meet and know many in the nearby ASIAN TOWN community. It was The Millers, along with mutual friend CONGRESSMAN DENNIS KUCINICH, who arranged for pianist Chandler to become part of many a varied musical entertainment event. Included was that year's Spring Festival event for '98; the CHINESE NEW YEAR CELEBRATION at DONNA HOM's LI WAH Restaurant.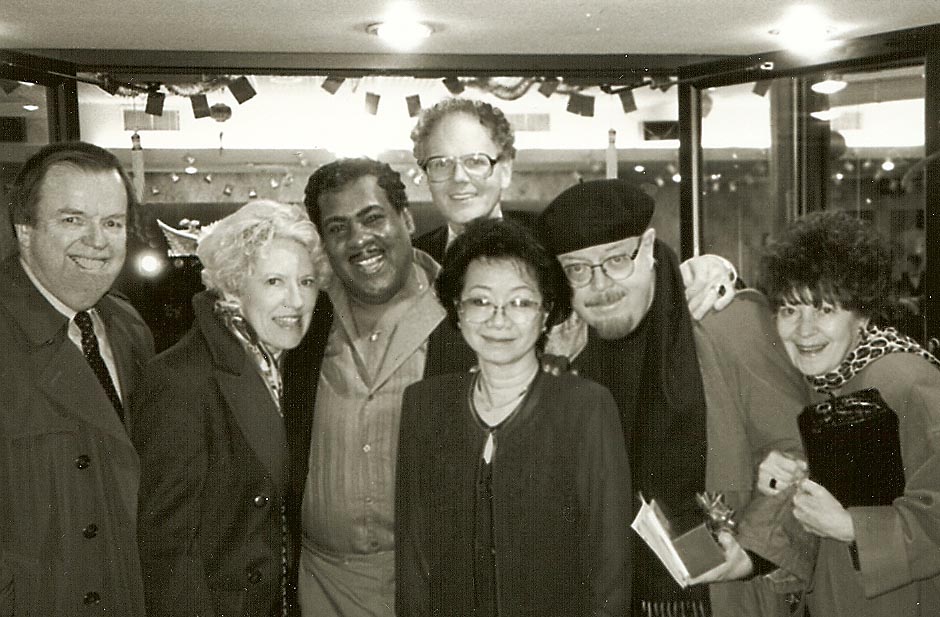 It so happened that previous years Dennis did entertain at Li Wah. He would do a variety act of various piano stylings during his set and then he would act as accompanist for baritone Web Fleming for his. They both enjoyed playing to this diverse and most appreciative audience. In the above mentioned year ('98) Dennis was looking forward to doing it again; albeit solo… for Web Fleming was booked to tour overseas.
Filling in would be another dear mutual friend, television talkshow pioneer and popular broadcaster BILL GORDON aka BILL "SMOOCHIE" GORDON.
Musical director Chandler was to accompany Bill Gordon (again after Dennis did his own set). Well, you remember what they say, "the best laid plans", etc. Here's what happened next…
When other performers on the playbill ran over the time allotted, it was decided to rearrange the acts. Just when Dennis' piano was being moved, it was dropped. Quickly, it was carried out to the adjacent plaza. Focused on following his piano, Dennis didn't notice the protestations of the HEADLINER MA-XIAO-HUI. Since she spoke little English, she tried to use body language to communicate. She had already done her portion of the program; a magnificent performance on her ERHU, (an ancient 2-stringed instrument).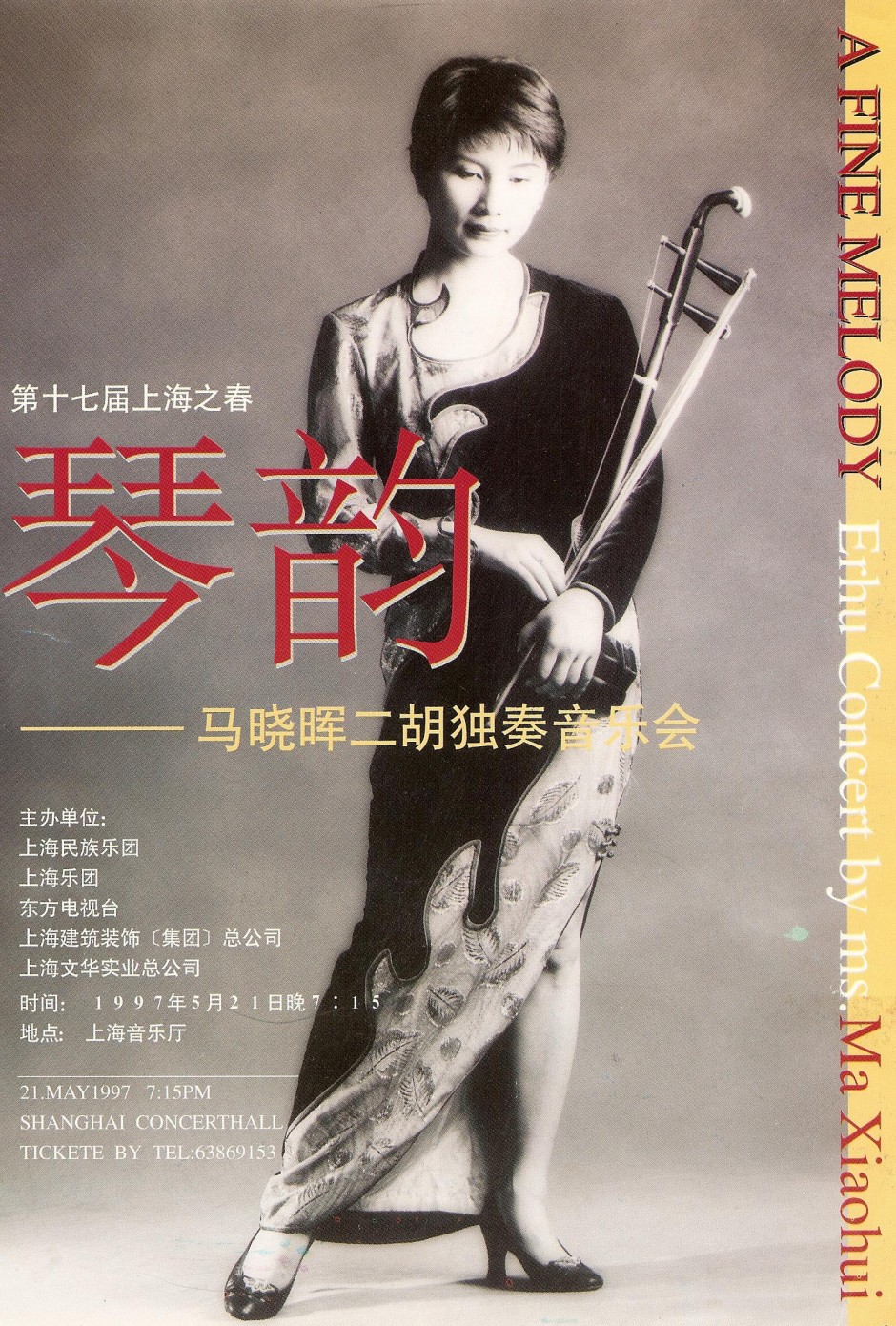 Ma later told Dennis she was waiting around just to hear him perform. That's what she was trying to convey to him when, during the setup…his piano was dropped.
Concerned that the electronics in his keyboard got damaged, Dennis busied himself checking the settings with his right hand. Then he started to "run" the bass keys in a boogie-woogie style with his lefthand. It was in a style of timing that gospel singers routinely call "a left-hand like God" meaning that perfect-timing stride-style of accompaniment. That's what caught the eye and ear of "THE LADY FROM SHANGHAI". Ma, again impressed with his playing, spoke to her "handlers". They hastily put together his piano bench, placing it under him. (Dennis was so distracted that he didn't even notice them holding the piano up, in midair.) From its case, Ma proceeded to pull her instrument, the ERHU. Oh, the sounds she coaxed from that ancient 2-stringed instrument! She entreated Dennis to continue that boogie-woogie beat and piano stride-style he started with. Then she begged him to play blues. Later, they jammed with some jazz, too. What a sight. These two master musicians, who never spoke to one another before, were now communicating… in the Universal Language of Music… right there in the lobby at Asian Town Plaza. (Thank you, Li Wah owner Donna Hom, Bill Taggart aka William C. Taggart, president of IATSE (the union for stagehands & projectionists), newspaper columnist William F. Miller, his wife Maria and Congressman Dennis Kucinich.)
Later that week at The Chandlers' home in Solon, Ohio, there were two more subsequent nights of inspired-playing. There Dennis Chandler introduced BARITONE WEB FLEMING; who had returned home to Cleveland from touring overseas. Web was introduced by his honorary Asian name; "HAK SAN" (loosely translated means "BLACK MOUNTAIN"). The name was given him decades ago when he was a star in the FAR EAST.
Plus he was a former member from the early days of the famed NEGRO CHOIR called "WINGS OVER JORDAN. That's also what made Ma want to hear Web sing. This time songs from his and Dennis' "Gospel & Negro Spirituals" repertoire. Then the three of them Ma, Dennis and Web started to do some blues.
Talk about an Asian fusion. An Eastern feel. Next was quite a sight to behold. (Just ask Web's nephew STAN DAVIS who was there and is a fine singer himself.) That sight to behold? It was pianist-Dennis and Erhuist-Ma sitting back to back; performing an original, stunning impromptu piece… which was recorded.
After the Musicale held at his home in her honor, Ma shared with Dennis that she's "considered a BIG star" and "perhaps their collaboration-of-creativity might bring official sponsorship for the two of them to tour overseas?" Ma further reasoned that because of her role as a Shanghai Traditional Orchestra Principal and as the Artistic Advisor of the Hong Kong Youth Music Society, she felt she could help co-ordinate a "BLUES IN THE SCHOOL" concert series overseas, too. (Dennis had done such in his hometown state of Ohio). Plus, Ma hoped they could tour, record together again. She paid him a high compliment, "Dennis Chandler, you are a world class musician and I think I know one when I see one!"
2013: A "September Song" or "What the Full Moon aka the Mid-Autumn Moon Has Wrought"
Since re-connecting with Dr. Nianfa Tang (through an amazing set of circumstances to be told another time), Dennis Chandler is ready for another jam session with Ma Xiao-Hui. Who is Dr. Tang? He is the "impersario" who brought Ma-Xiao-Hui to Cleveland to perform at that 1998 Asian Town Chinese New Year Celebration. Dr. Tang is still the President of The CCCA aka Cleveland Chinese Cultural Association. Perhaps he can book her again…maybe even for the 2014 Spring Festival Celebration? Or maybe one can hope these stunningly original, impromptu pieces of music will find a way to China… to clear a path across… for them to make it there. How fitting it would be. Consider the title Dennis Chandler gave his and Ma-Xiao-Hui's music. This rhapsody for Erhu… this, "ORIENT EXPRESS". As they say in Asian Town… "Enjoy!"
Liz Chandler
Website Writer
Nov. 6, 2013