Just We Two – A New Musical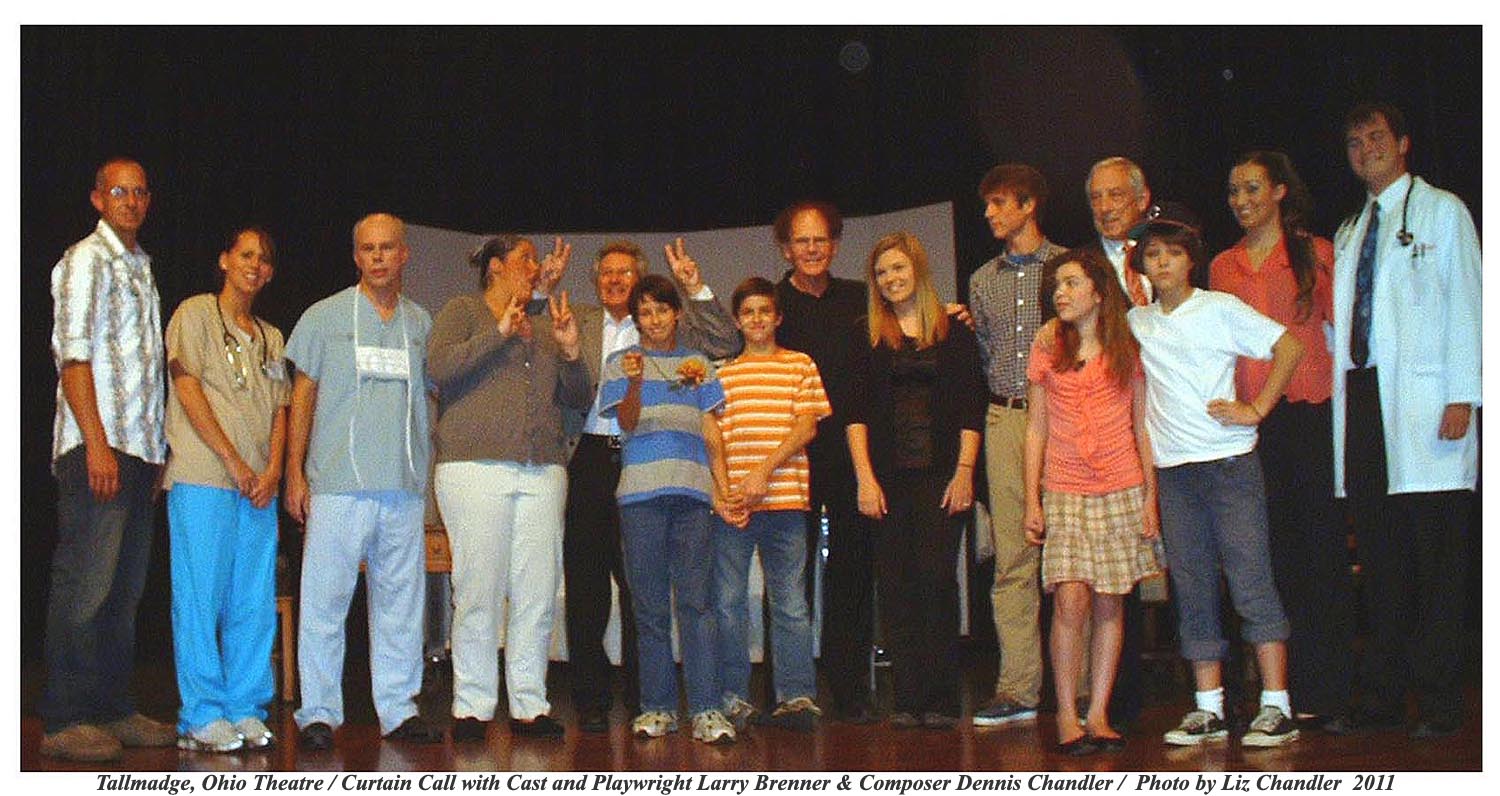 Just We Two
Click on Just We Two to hear the title song from the show. Music by Dennis Chandler, lyrics by Larry Brenner.
The Premiere of "Just We Two – A New Musical" was in October 2011
The play's out-of-town two-day tryout was at the Tallmadge Theatre… a performance center and state-of-the-art teaching facility in the township of Tallmadge, Ohio.
Dennis Chandler's Dedication
As the composer of this musical, Dennis dedicated this debut to the wonderfully generous teachers he has had. Here is his BACK STORY….
Musician Chandler has had a crazy quilt of life experiences. But, it is why he feels blessed to be able to make ALL the music he loves and in the VARIOUS styles that he loves. That's due, in no small part, to the following folks he met along his way in the world.
 First, as a very young performer in the schoolyards of Cleveland… Dennis was taught stage presence, blocking and entertaining-in-general by his first show business coach and mentor Arlene Blank Rich. She was the director of "KYW Road Show" back when student-Dennis joined that youthful troupe. Being it was his formative years Dennis Chandler aka "The Ed-U-Tainer" feels he owes it all to her; this enjoyment of "Educating While Entertaining". 
He also credits her husband Berni Rich for the strong foundation he provided. Early on, Dennis learned how to sense what a crowd might want to hear and if it turned its interest in another direction… how to get that audience's attention back… to about the music. The Teachers Rich. What Lights. (By the way, Berni Rich was the famed local photographer who was the first to take pictures of Barbra Striesand during her early days of performing!)
Speaking of Song Bird Barbra Streisand. During the time he was laid up (from overcoming hurdles of chemo treatments for AML  luekemia in '87, '88, '89) Dennis worked on music he had already written  (before his battle with cancer). Songwriter Dennis "wrote from the top-of-his-head while his-body-below was healing". The page about his battle and victory over cancer is titled "The Journey". The page about some of the music that came out of his battle… and journey… is titled "Original Music & More". There you will find his song for Streisand. It was his dream and still is that they share their creativity in arranging one particular song. Look on the list for the title, "Let Me Be Your Song". Would that it could be heard by her… "Oh, from our lips to G_d's ear!" Or at the very least, Barbra Streisand's ears. It could happen, no?
But, back to 'bout the play music. Talk ' bout hearing things, "I'll try it out on my audiences", Dennis thought. So he did. First, he did it at one of his Monthly Masters of Melody Concerts…  on the Campus of Menorah Park in Beachwood, Ohio. Those residents are real theatergoers to the Umpteenth power. Why? Back in their day… and the days of when there still was melodic stage music being written… they were the typical audience. They experienced the excitement of hearing good melodic stage music. Yes, the kind that one can sing long after the play is over… not just walking up the aisle. And the Menorah audience members who in many cases saw the shows in NYC… shared how they had many "Meet and Greet" sessions with the original composers! Only in the good old days of Broadway, eh? So what happened when "The Ed-u-tainer" aka Pianist Dennis played some of his songs from "Just We Two"… right there on their "Campus"? Composer Dennis got rave reviews. Talk 'bout road–testing the music… read: Road Show testing…get it?
Back to About Being Blessed With Good Teachers
At a very young age… untrained guitarist Dennis befriended Bo Diddley, Lonnie Mack, Chuck Berry, B.B. King and B. B.'s teacher, Robert Lockwood aka "Robert Jr" (so named in a nod to his stepfather Robert Johnson. He was the early blues man at the center of the folkloric Cross Roads tale: selling his soul for musical ability). Well, Dennis did not have to bribe anyone of these gentle souls. When he asked them to show him how they did what they did… to a man… they invited Dennis to sit and learn the way they were taught… in the Oral Tradition. How gracious and generous these great rock pioneers and blues masters were. That's why Dennis knows so well… how to play the Blues… and rock on, too.
At a young age and while still in school… classically trained pianist Dennis…  was coached by piano legends Roger Williams, Ferrante & Teicher and Andre Previn. As far as organist Dennis' playing goes… it took a Master of the Hammond B 3…  Bill "Honky Tonk" Doggett to teach him the the finer points of the B 3.  Finer we say… because prior to meeting Bill… all Dennis had was "Basic training on the B3", albeit really good basic training. He had rigorous instructors. He was a student-turned-teacher. After school in nearby Cincinnati… he worked at Willis Music… as a demonstrator of Hammond Organs. .
Years later…. About those finer points of playing the B 3 taught him by "Teacher Doggett"? Dennis was able to stand and deliver for "Dad Doggett" whenever he came to Cleveland. When "Chameleon Chandler" was made house pianist at one of Bill's favorite venues… well, he also got to be "opening", playing and jammin' with those finer points of music. What was the name of that famed hot spot? The Theatrical Grill. What a thrill. Just imagine learning that music from such great musicians of America's Golden Age. And learning it… firsthand, at their knee, so to speak.
Composer Dennis still does believe the above mentioned play ("Just We Two") and another musical ("Ruling Passion") might just get mounted, yet. Allow me to ask you to read about the second play. Scroll down on this web page for the little bit written there.  We do have a much more fully fleshed out story about "Richard's music", as we've come to call it. That back story can be found on the webpage titled, "Ruling Passion – A Musical Comedy about Richard III". Get the kettle out. Brew some tea. Then read on.
So composer Chandler asked to dedicate all this to another special group of talent.      These folks coached him, but in a different way. To explain, in 1990 we were invited to appear on the National Leukemia Telethon. We met the following stars of stage, screen, television and the written word … the late, great Steve Allen, his wife Jayne Meadows, along with Florence Henderson, Shirley Jones and her husband Marty Ingels. They were some of the telethon hosts who were helping to raise funds for cancer research.
Dennis, who had battled and beat AML – acute myeloid leukemia, was the only featured adult survivor and was being interviewed about his near death experience. Upon hearing his harrowing tale of being told to "return to Earth"… they all said he must do more with what he was given. And after playing piano host Steve Allen told Dennis, "God brought you back for a reason. I would love to hear what you are going to write … now!"
Thank you, God. Here, it is. And Steve Allen, hear you go.
October 14th & October 15th, 2011  PREMIERE
"Just We Two – A New Musical" (By the way, why the playwright chose to call it "new" escapes us for it was started soo long ago and it has been almost fours years since it's staging?) But, it did have it at the state-of-the-art "Theatre at Tallmadge High" here in Ohio. Both nights of that two day out-of-town try-out in Tallmadge drew standing ovations and soaring hopes to take the show all the way to Broadway. By the way, a shoutout of "Thanks" to director Frank Chaff, the talented cast of grade schoolers, high schoolers, young college and community actors who helped present this musical. Finally, for their spot on accompaniment, we give Kudos to the following professional musicians: drummer John Mosconi, bassist Dan Horswell and guitarist Michael Dragas, Jr. Your time, talent and tenaciousness are appreciated, still.
So what's needed next? Angels of the New York theater-type (can you say Tom Hanks, Oprah, Whoopie or Harvey as in Fierstein?) … OR… grants as in the Genius-type grants (can you say MacArthur Grant?)
2015 Update… No News Is Good News?
Meaning… We have not heard from director Frank Chaff. I'm sure he has moved on to doing more plays. Nor has there been a peep from playwright-turned-producer Larry Brenner. Perhaps, they've embarked on their own YELLOW BRICK ROAD. So, we find Dennis waiting, NOT. He's moving on, too. Onto various and sundry stages to keep performing and entertaining all the folks with with good melodic music. .
What will be the next big project to write music for? What will that subject be? He waits in the wings to learn. Only the Lord knows, we're sure. He awaits direction… so we're walking… and we're walking… and we're walking… (Read the page titled "Prophecy for Dennis")
Back to about those out-of-town two-day tryouts at the Tallmadge Theatre. What was the takeaway lesson from them?  Can't tell yet. Waiting for the movie to come out. Literally, for there was a two-camera setup. Film doesn't lie. Put another way, "the proof is in the pudding". Dennis says he'd like his dose… he can take it. (THAT, we know.) 'Tis said, "We die daily" (that's how we grow). Maybe the film was lost at the drugstore, as old-timers used to say.
BUT… LET'S TALK ABOUT CRITICS … as in  A CRITIC'S  PREVIEW:
"The music of 'JUST WE TWO'  is MAGNIFICENT!…  Its MUSIC IS GREAT ON ITS OWN, SO IT IS INEVITABLE THAT SOMEONE WILL RISE UP TO THE TOP OF THIS SHOW! BRAVO, composer Chandler and playwright Brenner!" George Foster, NORTH CAROLINA OPERA
Going back in time… HOW GOOD ARE THE SONGS? We were told by the playwright that one critic said if not enough actors were found to do it as a stage play, it should still be done. Perhaps as a musical revue with all 22 songs? This was said after the critic heard only just a few of the songs. The critic and the director both feel this FAMILY piece with its message is sorely needed today.
Going farther back in time… ABOUT AUDITION REACTIONS: When the show was being finally cast, THE SONGS ELICITED TEARS and THEN SPONTANEOUS APPLAUSE from those auditioning and from THOSE ATTENDING THE AUDITIONS. That boded well for the music. For example, Composer Chandler was delighted when a six year old IMMEDIATELY PICKED UP the melody of one particularly (he thought) difficult song. She got the melody IN SECONDS. Sang it straightaway; full out. It wasn't even her song. It was always his intention to make this play's music MEMORABLE. He thought, "Out of the mouths of babes"?
Currently… STILL A GOOD PREMISE: THIS PLAY is based on a situation EVERYONE CAN RELATE TO. A loved one lying in a bed in a hospital room. The play begins with family members coming into the room to visit. They are then seen one by one, pondering and reflecting upon their life together with the patient. Emotions come back in flashbacks, emotions come in the moment. They lament. They cajole. They sing their hearts out with their respective "SHOUDA-WOULDA-COUDAS".  Again, everyone will relate to this play.
FYI & Bears Repeating… Book & Lyrics were written with humor and pathos by former syndicated cartoonist-turned playwright, Larry Brenner. It is semi-autobiographical for both lyricist and composer. First, the lead character as a writer working with words… wants to be taken seriously… delivers his dialogue in short sing-song syllables.  Then, he acts out in lyrical laments… singing all his own "SHOULD-WOULDA-COULDAS".
The music was written by Composer Dennis Chandler who wanted all 22 songs to be MELODIC. Even the few rock 'n' roll songs are in an older more traditional "MELODIC BROADWAY STYLE".
For all time… OUT OF TRAGEDY COMES ART (Again) (?) FIRST time for Dennis was when playwright DEBORAH OSMENT sent her script titled "RULING PASSION – A MUSICAL COMEDY ABOUT RICHARD III". The music was first written in his head, while he was bed-bound. Wanting to return to life before cancer (how could one ever do that, one may ask). But, Dennis did go on to do business but not as usual..Prejudice for people whom they whispered as "having the C word"… was strong. For the financial devastation alone, he had to put "the Day Job" first and "his music" second. So that is how Dennis took to being low profile and low key, so to speak.
It was a long time before Dennis could pull forward this other pot of music bubbling on the-back-burner-of-his-brain. But, how to stir it anew? Referring now to "Just We Two"… Playwright Brenner came back into our life after overcoming his own health hurdles (which included testicular cancer). He told Dennis he had finished what they both started so long ago. Dennis said, he thinks he's just really beginning to understand the DEEP MEANING OF THIS PLAY FOR HIM. Talk about mental blocks.
Well, they made it. Out of tragedy comes art. These two survivors "Know from whence they speak!"
———
It now appears the "Prophecy for Dennis" that  Mrs. Lou Kassouf was "given from above" and "written down" so long ago… has finally begun. Who is Lou? She was a neighbor here in our North Hill community. We only knew her from when she had Dennis play piano for a "gathering" at her home. Along with the "Prophecy", her note shared how she had prayed for him when she had heard he was first hospitalized.
Music has such power. We always look forward to what else it can do!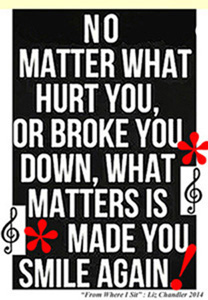 Liz Chandler,  Website Writer
"