Bo Diddley
Audio clip: Adobe Flash Player (version 9 or above) is required to play this audio clip. Download the latest version here. You also need to have JavaScript enabled in your browser.
Click on the arrow to hear "Dancin' To Bo Diddley": (An original song written & recorded by Dennis Chandler in tribute to Bo)
Update July 12, 2013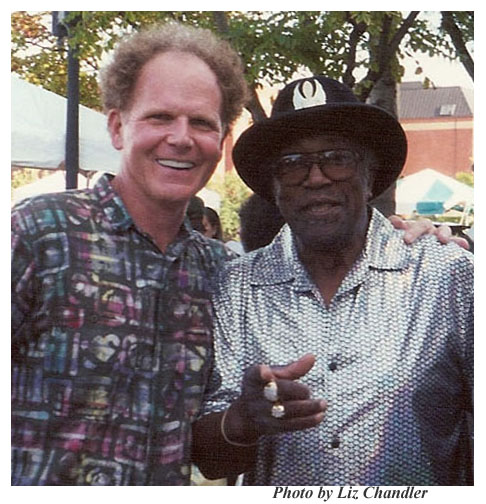 The Kid Who Wouldn't Take No… From The Man Who Knows
When as a teenager Dennis Chandler first heard Bo Diddley… little did he know that he would not only meet Bo… but also that Bo would become his first guitar teacher.
He had that certain beat. He had a unique lead-and-rhythm timing. Bo based it on that hambone rhyme… "Shave and a haircut…two bits"… Da Da Da Da Da.. pause.. Da Da. That sound intrigued pianist-Dennis. He loved playing in a syncopated style. But, he wanted to play it on a guitar. He wanted to learn guitar. But, how?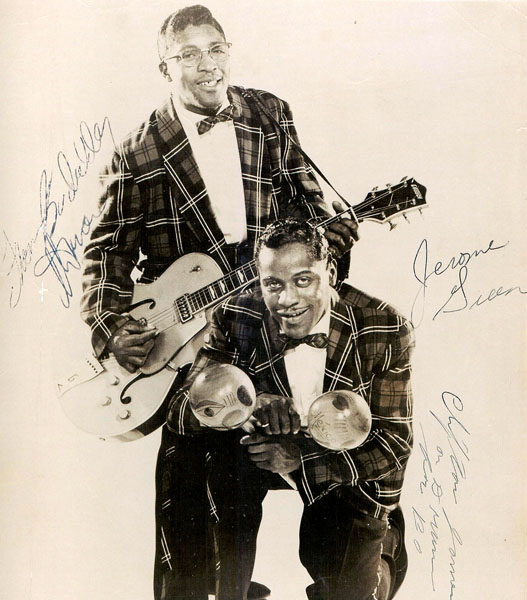 While attending Miami University, Dennis would steal away nightly to catch Bo's act. He was performing at SPATZ SHOW BAR in nearby Hamilton, Ohio. It was 1959 and from the stage Diddley noticed student-Dennis… sitting front and center… the only person not of color. He was studying Bo's hands.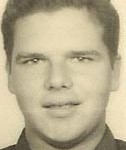 After a few nights Bo invited him backstage. Bo challenged Dennis saying, "FIGURED IT OUT YET?.. I'LL SHOW YOU BUT ONCE… LEARN IT RIGHT!"
Bo'd even loan Dennis that famous "square" Gretsch guitar of his… for overnight practice!
Adding to all the headiness for him… Bo Diddley came to Dennis' dorm… to play an impromptu concert!

That was 1959 and it would be 1979 before Bo and Dennis got back together again. In the years since Spatz Showbar… Dennis learned to do Diddley and to do him right, so to speak. He could not wait to thank his guitar teacher. He wanted to be "tested" by Bo, too.
It happened again. This time at the Agora nightclub in Cleveland, Ohio. "The Dennis Chandler Band" was booked to back Bo Diddley for a concert. It all was thanks to Dennis' dear friend and former bandmate Buddy Maver. As Vice President of the Agora chain… he played booker for Bo. (It proves it pays to have friends in high places).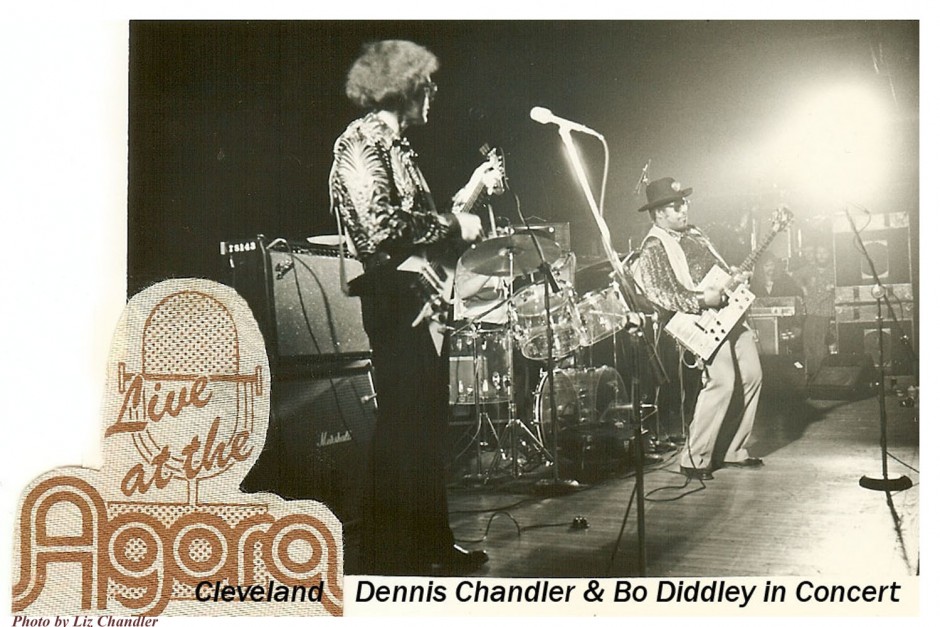 The next time was 1985 when Den and Bo got back together again. A year earlier "The Dennis Chandler Band" began serving as houseband for Malrite Communications' Radio Station WHK… in support of their Oldies Music format. The band was renamed "The Stratophonics" aka "14K Stratophonics". They got to do many promotional events and concerts like the one below… at Dewey Foward's "Peabody's" in Cleveland's Flats… where they opened and then backed Bo Diddley for a concert.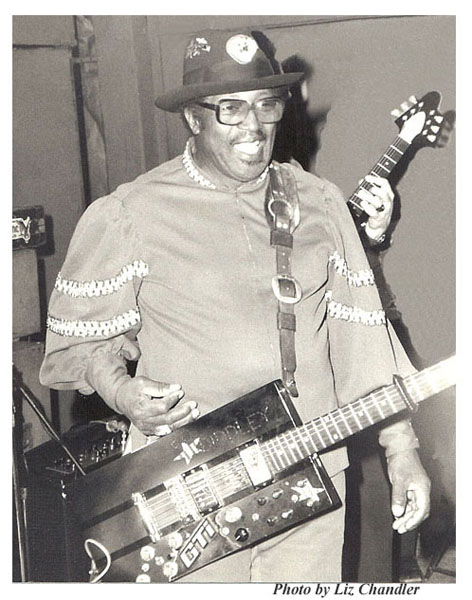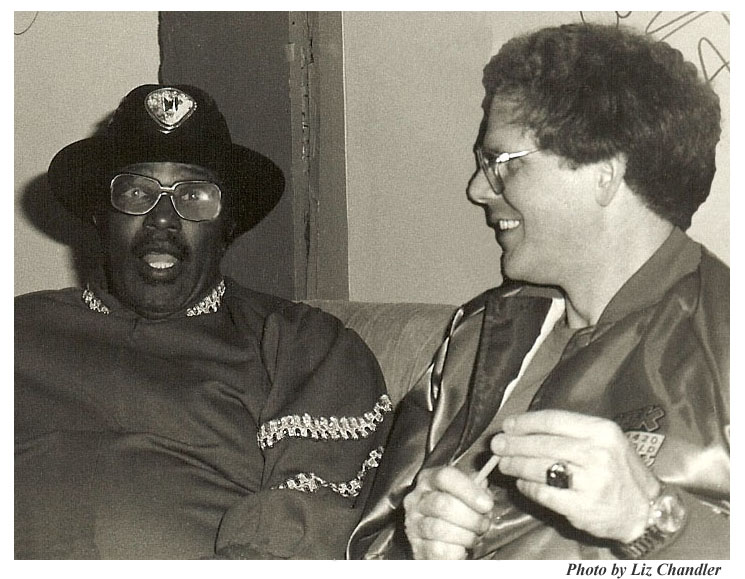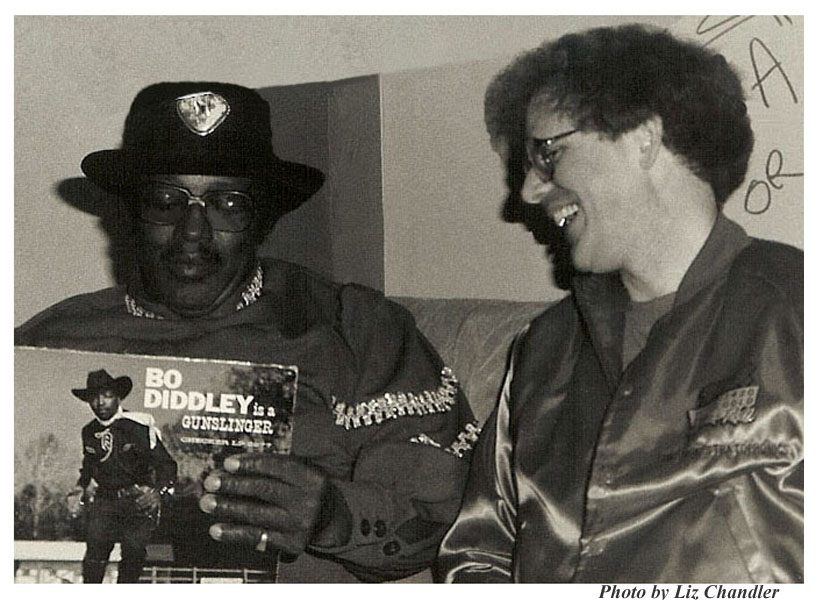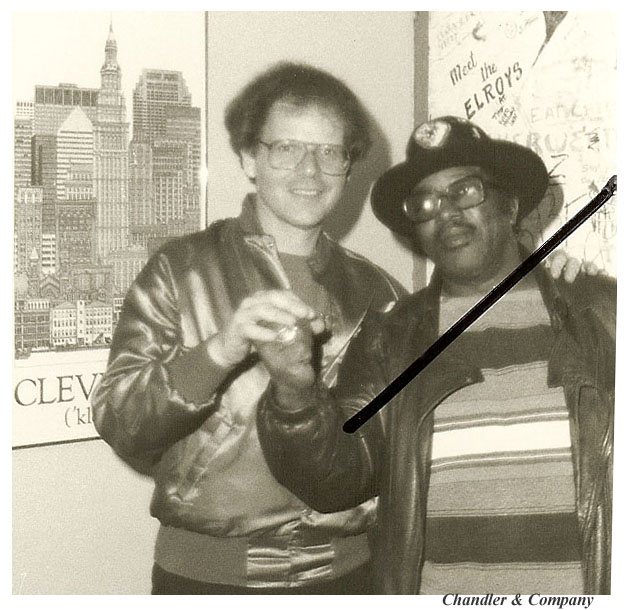 There Bo "graded" Dennis with an A+. Then Bo Diddley said with paternal-like pride, "DENNIS IS THE BEST EXPONENT YET OF THE DIDDLEY STYLE (besides my daughter) and… BO KNOWS!"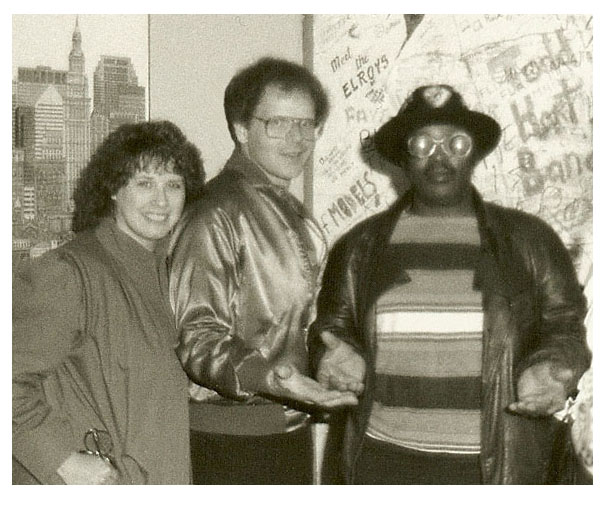 Another fun-filled time Den and Bo had was when Bo Diddley was inducted into the Rock Hall of Fame. Ceremonies for "The Class of 1987" were at the Waldorf Astoria in New York. The Chandlers were invited to be guests of another inductee, B.B. King. Needless to say, they were tickled to be invited.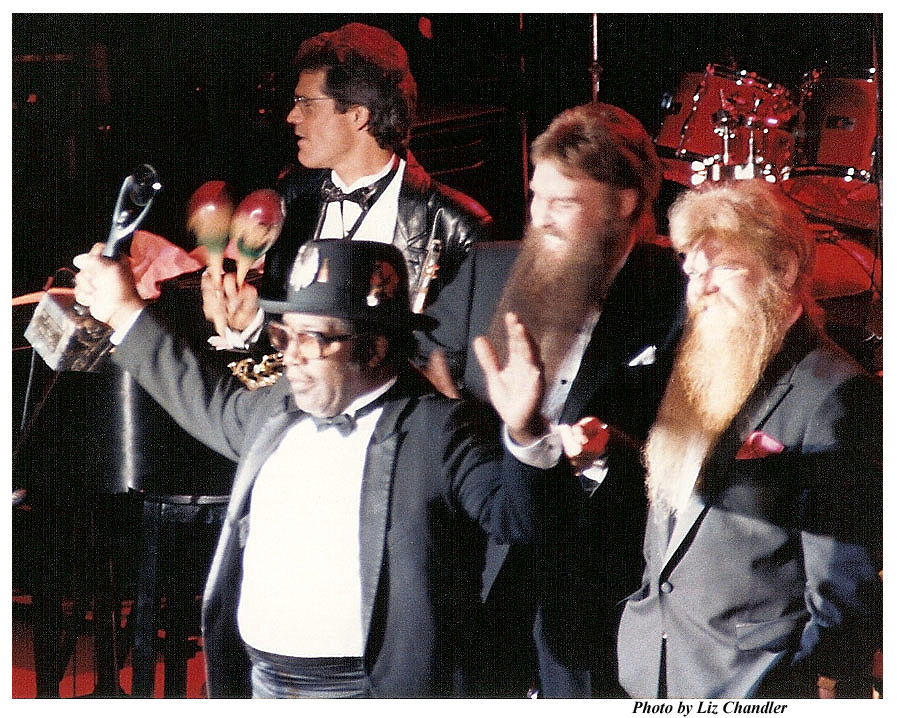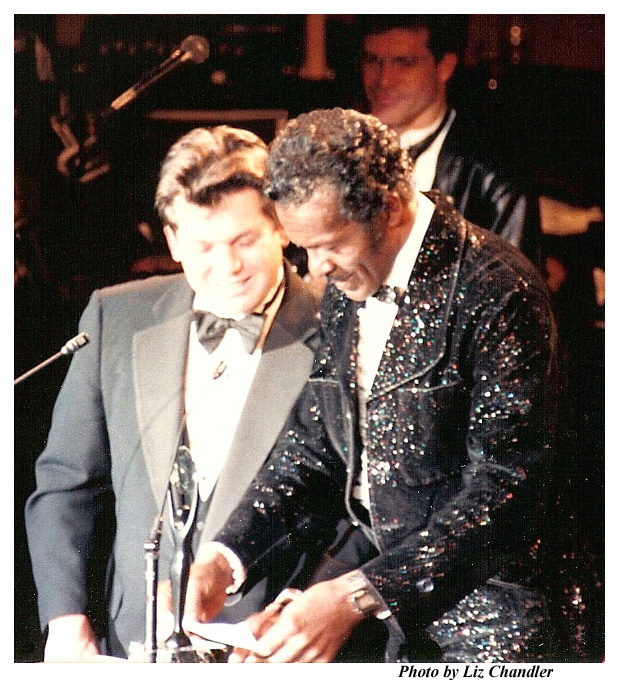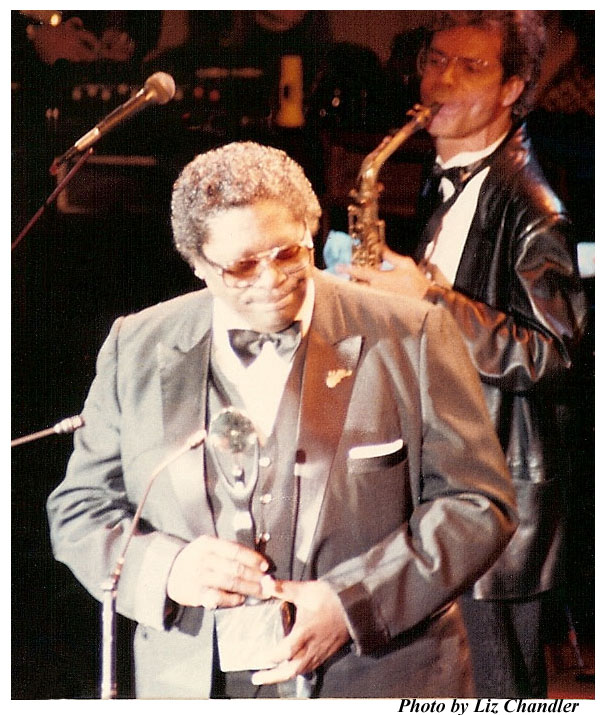 Three of Dennis Chandler's most favorite musical mentors / teachers… Chuck Berry, Bo Diddley and B.B. King… were together all in one place.  Plus seated at the same table beside Bo… was another inductee, the legendary Carl Perkins. At B.B.'s right was another inductee, Hank Ballard (of "H.B. & The Midnighters") and music pioneer Sam Phillips. (We could go on and on. You really had to have been there).
You can not imagine how they all felt… about the importance put upon such rock 'n' roll recognition. Let's just say, "Look at the photos taken at the after-jam". They give a hint how happy the music made everybody.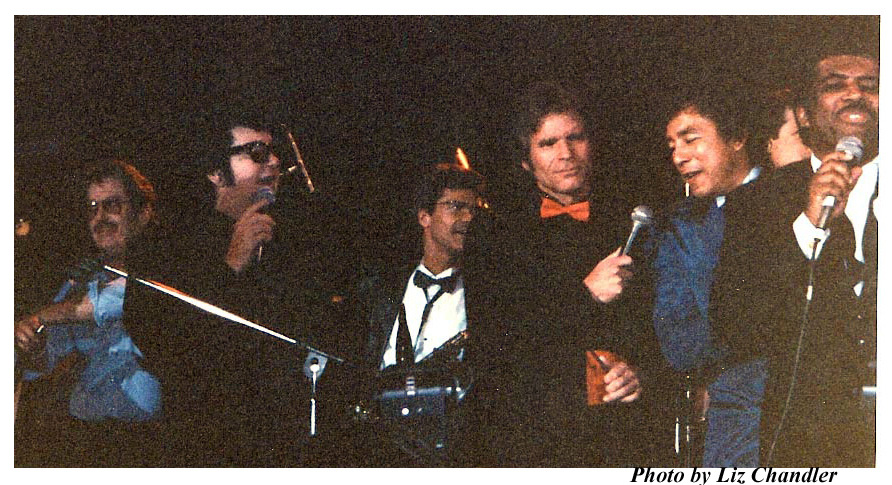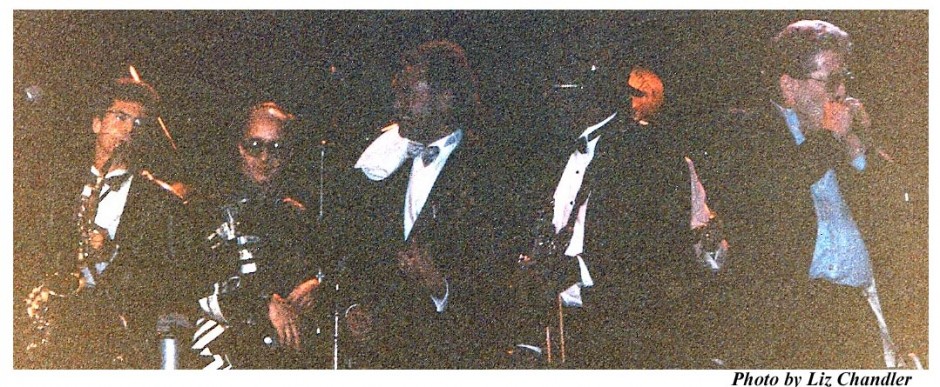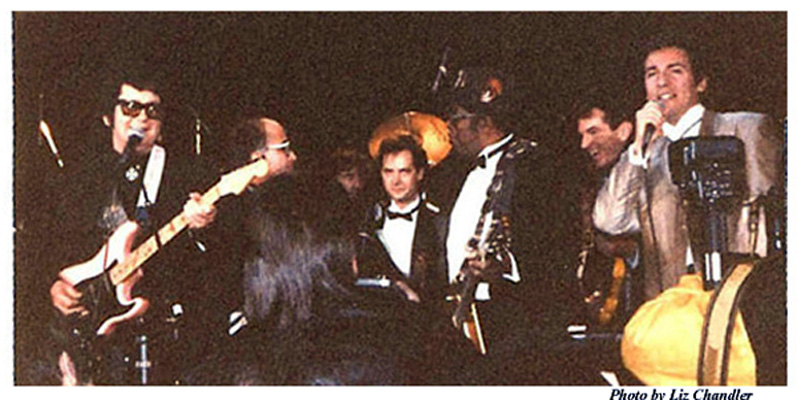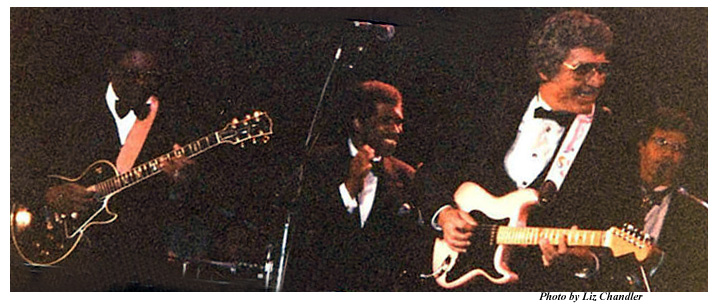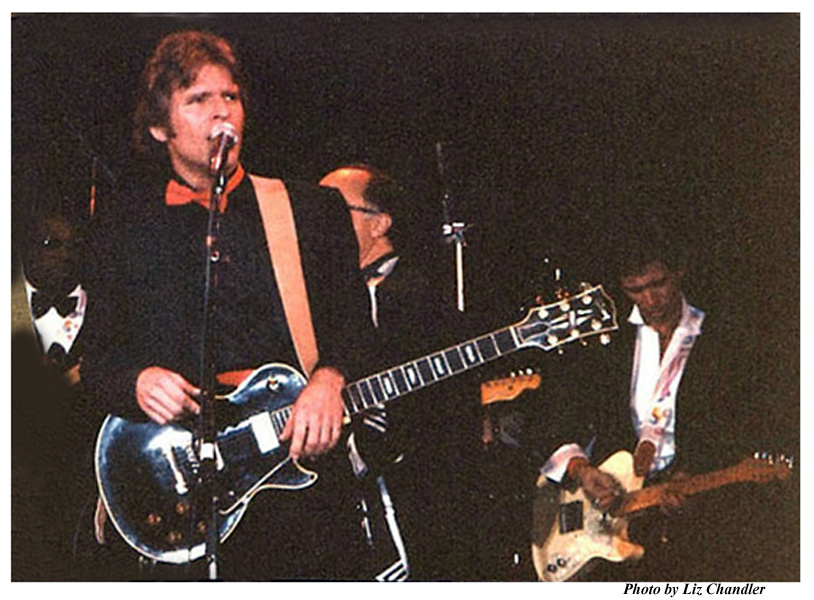 There in the Waldorf Astoria ballroom were so many artists Dennis had worked with… or played back of… from Den's days as bandleader of The Pilgrims and The Stratophonics (those two previously mentioned radio housebands).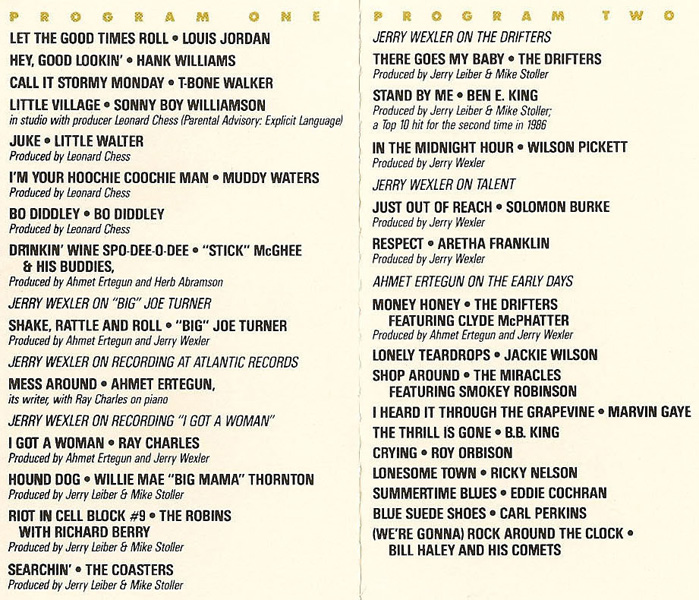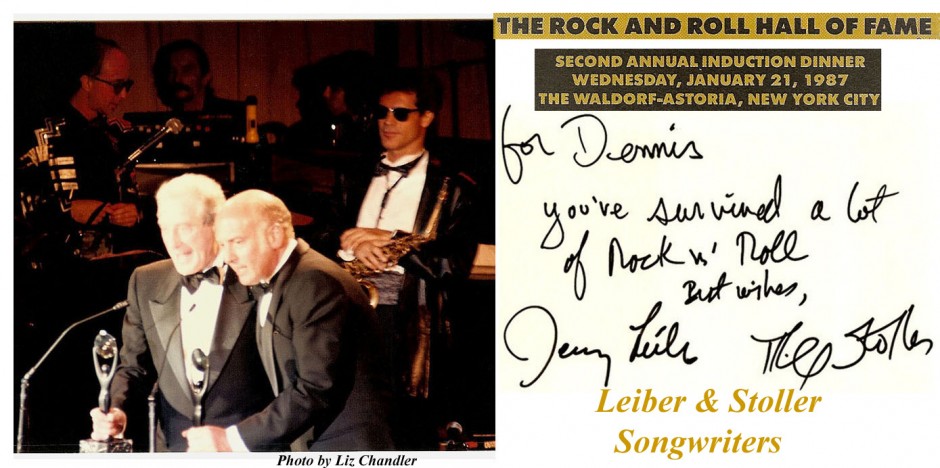 In the fall of '99, Dennis and Bo recommenced their rock 'n' roll friendship. It was during a reunion before Bo's appearance at the Crooked River Jazz and Blues Fest in Cuyahoga Falls, Ohio. It was all arranged by singer Sasha Simms (a native Clevelander who sang backup for Wayne Newton and later Belushi's Blues Brothers). The outgoing and personable Sasha convinced concert promoter Tony Rubino to let her plan the surprise.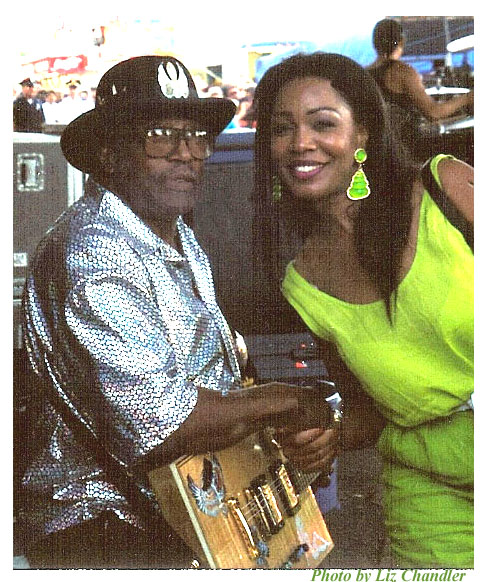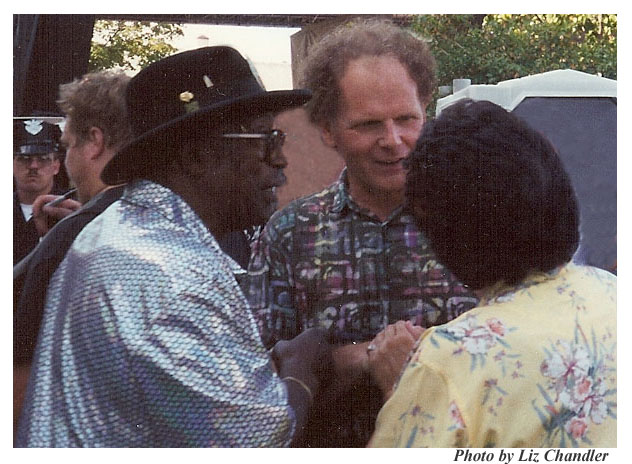 Why was it so meaningful to Bo this surprise? The last time they talked was years earlier and it was by telephone. The circumstances? It was while Dennis was recovering from chemotherapy for leukemia (type AML). Phone calls during his long and lengthy convalescence were precious reminders of the life Dennis had before cancer. Once recovered from the chemos, his focus was found to be towards mending in other ways, too, (i.e., financially). It was a long, long coming out of the woods, so to speak. Seeing Dennis so healthy-looking made Bo "very, very happy!", he said.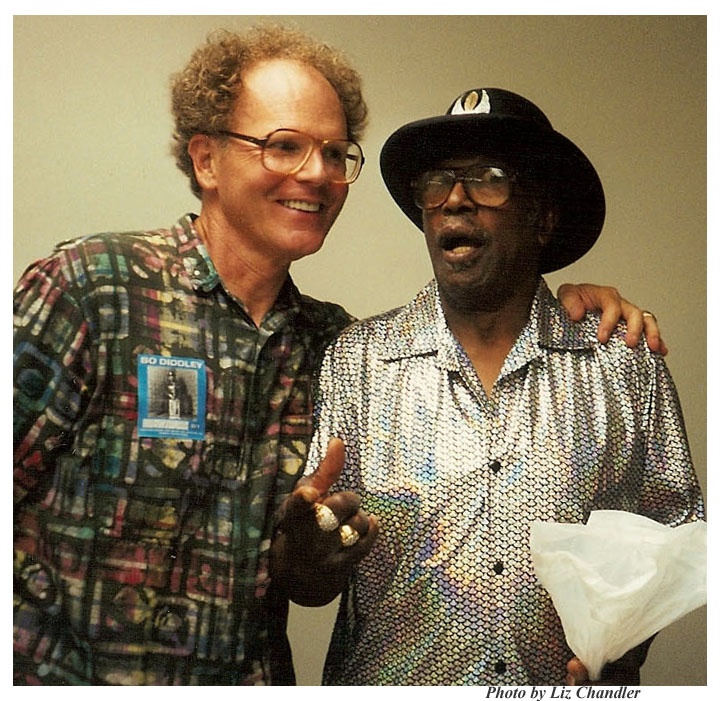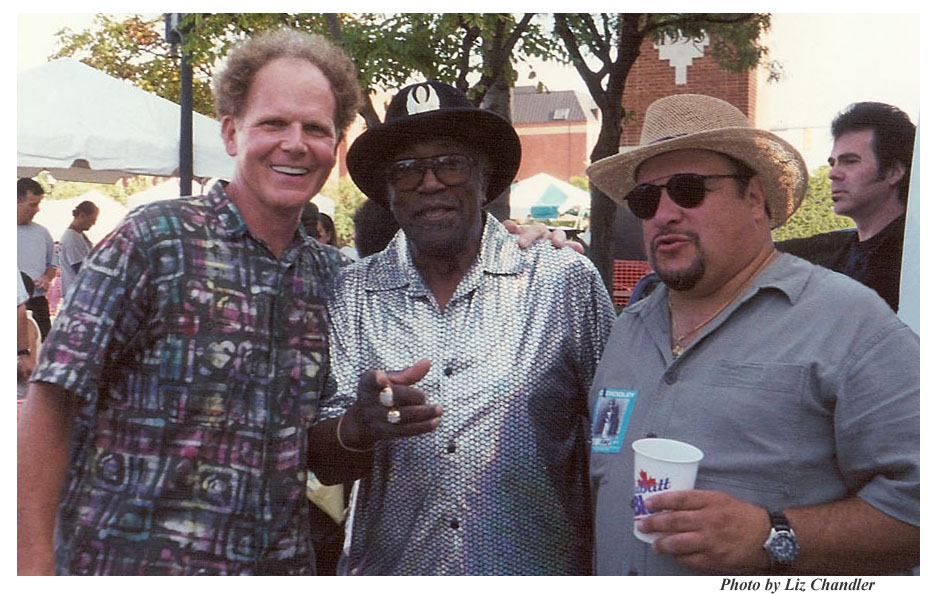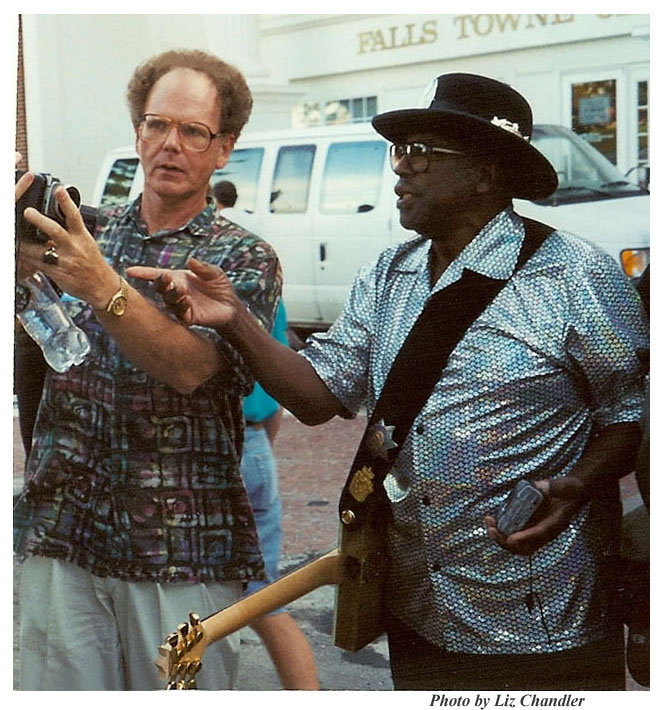 One concert where the two got together again was at the State Theatre in Cleveland's Playhouse Square. It was titled "At The Swing Cat's Ball: A Tribute to Louis Jordan". The tribute was planned by Robert Santelli, then the Director of Education at the Rock Hall of Fame & Museum.
RHFM graciously invited Dennis to attend by way of thanks for they said they "got B.B. on the playbill because of Dennis Chandler". Well, truth be told, they had B.B. at the mere mention of Louis Jordan. Why? He was a musical mentor to the King of the Blues. But, Dennis was delighted to have helped. Headliners were Ruth Brown along with Bo Diddley, B.B. King and Robert Lockwood..  three of his teachers. 
How priceless for youth-Dennis…  to have learned firsthand from these very same bluesmasters…  and in the manner in which they were taught… by their mentors. The time-honored Oral Tradition. What's that? First… practicing… then playing what was shared… sitting at their knee. Student-Dennis said there was always the kindly "Good, good… now try it this way". It is a style teacher-Dennis aka "The Ed-U-Tainer" incorporates whenever he shares the music, too.
Shown in the below photo are Ruth Brown, Bo Diddley, B.B. King and Robert Lockwood, onstage at the Swing Cat's Ball. They look so serious about who should start off their number… but they really were absolutely delighted to be together again. (As was Dennis!)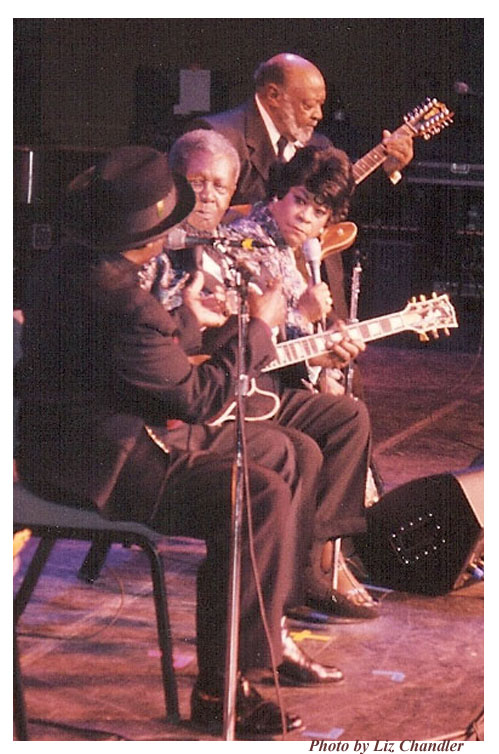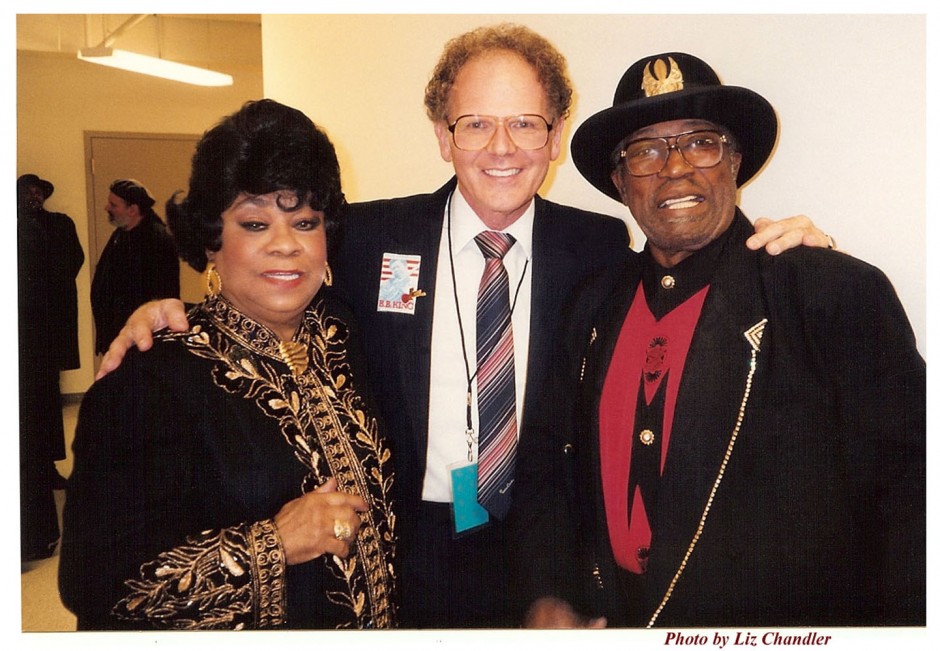 After the Ball is over… we see Ruth Brown, Dennis Chandler and Bo Diddley, beaming.
Sadly, since that picture Ruth Brown, Bo Diddley and Robert Lockwood have passed on. What Lights.
It is hard to believe it has been 5 years since Bo's death June 2, 2008.
Here is a link to Bo Diddley's gravesite on You Tube:
http://www.youtube.com/watch?v=GOsrDjRLyG8agewanted=all
But, there is good news about Bo's music still being played. Two musician members of Bo Diddley's extended family are LADY BO and her husband bass player WALLY MALONE. Bo taught them firsthand, they played with him, wrote for him and recorded with him. Read about LADY BO. http://www.imdb.com/name/nm0540493/bio
How Harry met Sally… err… how Dennis met Lady Bo…  and Wally? It happened at the 2010 International Convention of the American Federation of Musicians held at The Riviera in Las Vegas. It was at one of those nightly after-jams held after business was done earlier in the day. What a week it was. Dennis looks forward to seeing them again at the 2013 International Convention (and all the other world class musicians he got to meet, and jam with).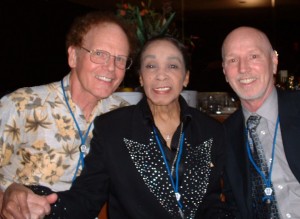 But, the next time Den gets to see Lady Bo and her bassist-husband, he'll have to get a guitar to play. Why do I say that? Dennis only had a piano to play that time out in Vegas. I can see it now, Dennis, Lady Bo and Wally putting out that… backbone-of-a-Bo-backbeat.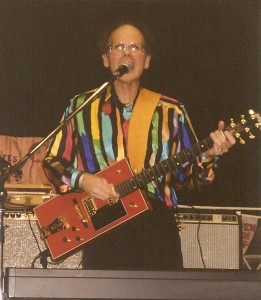 And then it will be time to be… "DANCIN' TO BO DIDDLEY"…
… After all…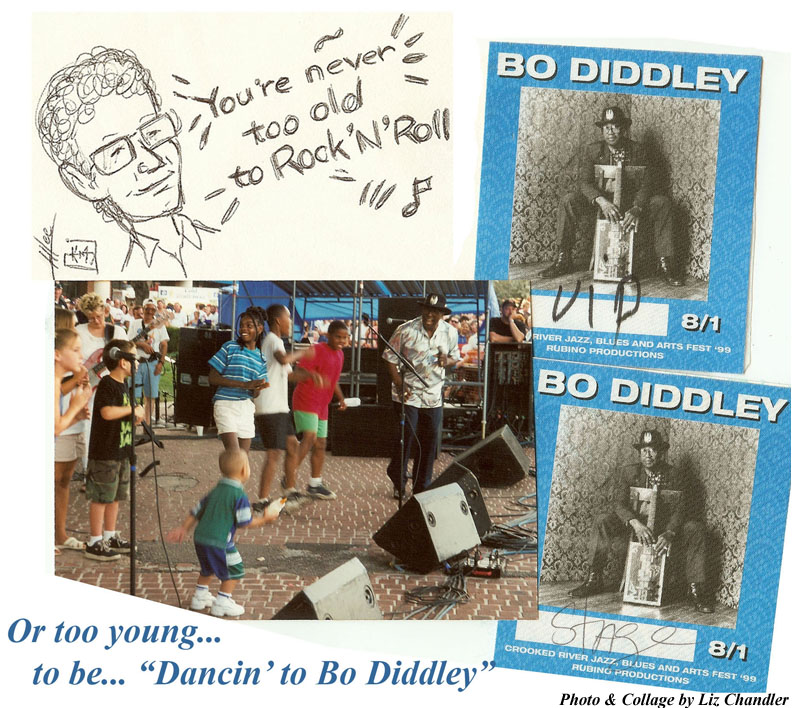 On his gravestone it is written how… Bo Diddley truly cared about people..  as you can see… Bo knows… people… And he knew us…. And we knew him… We were blessed… Bo Diddley… What a Light.
Signed,
Liz Chandler aka "Mrs. Dennis" , Web Writer – July 12, 2013
email: googoo@en.com
Here is a link to Bo's obituary in the New York Times: http://www.nytimes.com/2008/06/02/arts/02iht-02diddley.13403665.html?p